'Show, don't tell' isn't just a phrase to embellish your writing. It's a way for readers to connect with your characters and the story. It's a way for the readers to be around them and in the midst of the story. It's a way for the readers to live the story your characters are living and you lived as the author of it.
Sensory Imagery in Literature
Sensory imagery works by engaging a reader's five senses (sight, smell, sound, taste, and feeling) with concrete details that allows them to create vivid imagery of what is happening.
Through a combination of sensory imageries, authors arm the readers with information that gives them the pleasure of arriving at their own judgments through perceptual clues.
If you're one of them, bookmark this article that has over 300+ Show Don't Tell Examples. These sentences are completely at your disposal. You can use them in your writing as they are. (Just put us in attributions, it'll make us happy).
Before I begin, understand that there are 7 different types of imagery in literature:
Types of Imagery in Literature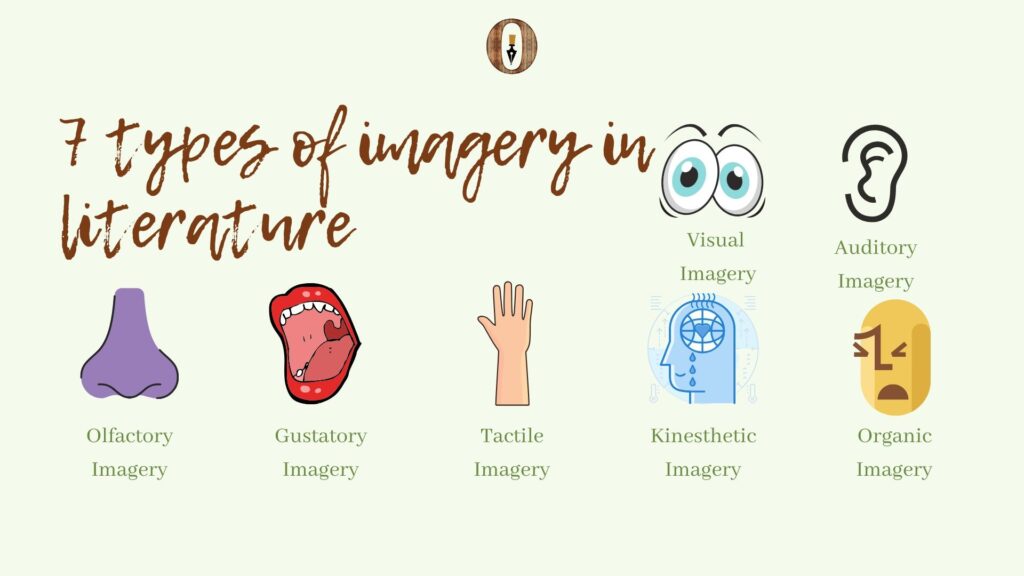 Visual
Auditory
Olfactory
Gustatory
Tactile
Kinesthetic
Organic
Organic Imagery in Literature
Organic imagery pertains to personal experiences of a character's body, including emotion and the senses of hunger, thirst, fatigue, and pain.
In Robert Frost's 1916 poem "Birches," he makes use of organic imagery:
So was I once myself a swinger of birches.
And so I dream of going back to be.
It's when I'm weary of considerations,
And life is too much like a pathless wood
Organic Imagery Literary Examples:
Organic is essentially the hardest of all the types of imagery. Depicting the feelings through the actions is what Organic imagery deals with. Writers often feel daunted by how to project emotions on the page to the reader. Don't Worry, I have got the Samples to help you with. I am going to go feeling by feeling (the important ones) and show you how you can show your readers what your character feels:
Ashamed (Organic Imagery Literary Examples):
He lowered his head
She hung her head
She bowed her head
He covered his eyes with his eyes
She pressed her hands against her cheeks
She covered her mouth with a hand
Affirmation (Organic Imagery Literary Examples):
He nodded
She left with a curt nod and a faint smile
She looked up
She raised her chin
He lifted his chin
Anger (Organic Imagery Literary Examples):
Her hands squeezed into fists
His hands tightened into fists
He clenched her fists
She balled her first with such force her nails dug into her skin
She bit her lip to keep herself from retorting
Her arms remained at her sides
His feet refused to budge and his eyes remained fixated.
A lone tear rolled down his cheeks and he left smashing the chair
She thrashed the contents of the table on the floor
She swung a punch on the wall
Her breathing grew shallower and tears started falling off her bloodshot eyes
Giving Up (Organic Imagery Literary Examples):
She held up her hands
He threw his hands in the air
Sliding his chair back, he left the room with no word
He shook his head and clapped his palms together
Turning his head a little, he clicked his tongue and left the room
With a wry smile, he gave her a thumbs up
She rubbed her palms together
With a curt nod, he pushed his plate on the table and left the dining table.
Dejected (Organic Imagery Literary Examples):
His voice sounded monotonous
His voice broke while he talked
She slouched in his chair
Her chin trembled
She looked at me with an empty stare
Her eyes appeared swollen/ red/ bloodshot
He sat with hunched shoulders
He sunk in his bed
He hid his face in the sheets
He let his tears fall silently
He went on with lack of energy and clouded thoughts in his brain
His eyes looked in the long distance with vacant eyes
Happy (Organic Imagery Literary Examples):
His steps bounced and he flashed his smile at every person passing by him
His smile reached his ears; he stood up clapping his hands
He burst out laughing beating the table
She hugged him with a huge smile on her face as soon as he entered the house
His eyes looked into the distance and he never stopped smiling
Her eyes lit up and her face beamed and in a quick motion, she left the room.
The stars in her eyes shone brighter today and she let her body sway to the music.
She stared at him, her eyes open wide, and her mouth curved up.
The corners of her mouth quirked up upon hearing the news of him coming home.
His tardiness didn't bother her today; she turned the volume of her radio higher and bobbed her head to her favorite song.
Disappointment (Organic Imagery Literary Examples):
She forced a smile
He faked a smile
With a wry smile, she retreated
He pursed his lips
Her mouth set in a hard line
He pressed his lips together
He nibbled on his bottom lip
His jaw tightened and dismissed the tears welling up in his eyes
His stomach dropped and his vision became blurry
She pressed her hand against her belly and her smile faltered
Jealousy (Organic Imagery Literary Examples):
Her smile didn't reach her ears when she learned about her cousin's success
His face contorted but he dismissed it just as quickly.
As he stepped closer to his friend, his hands balled into fists
He clenched and unclenched his jaw to fake a smile
His teeth gritted inside his mouth but he didn't look away from her.
He scorned at his cousin's trophy and left after spitting at it.
She took out a black pen and scratched Amina's name with it
She threw Beth's new shirt into the garbage can.
Avoiding eye contact with him, Tom nodded half listening to him.
The anger in Matt flared up and he couldn't resist his envy from forging his brother's signature on the document.
Now that you have a thorough understanding of literary elements to use in your own writing, it's time to put your skills to use! The only way to do this is to practice and actually sit down to write.
Before you leave, check out these 50+ examples on Kinesthetic imagery to empower your 'Show don't tell game.'