'Show, don't tell' isn't just a phrase to embellish your writing. It's a way for readers to connect with your characters and the story. It's a way for the readers to be around them and in the midst of the story. It's a way for the readers to live the story your characters are living and you lived as the author of it.
Now, we often find ourselves in the dilemma of how to show more and tell less, or at least maintain a balance between the two. Each writer writes to improve and weave the stories for the world to get lost into and come out as if it lived them.
Sensory Imagery in Literature
Well, this is done through 'Sensory Imagery'. Sensory imagery works by engaging a reader's five senses (sight, smell, sound, taste, and feeling) with concrete details that allows them to create vivid imagery of what is happening.
Through a combination of sensory imageries, authors arm the readers with information that gives them the pleasure of arriving at their own judgements through perceptual clues.
If you're one of them, bookmark this article that has over 300+ Show Don't Tell Examples. These sentences are completely at your disposal. You can use them in your writing as they are. (Just put us in attributions, it'll make us happy).
Before I begin, understand that there are 7 different types of imagery in literature:
Types of Imagery in Literature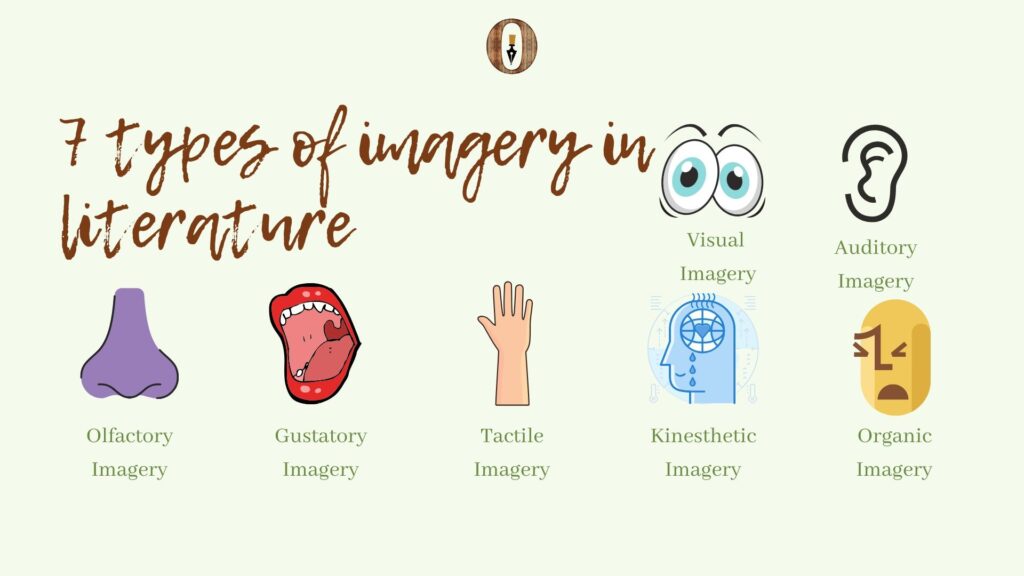 Visual
Auditory
Olfactory
Gustatory
Tactile
Kinesthetic
Organic
But in this article, we'll only focus on Tactile Imagery.
Tactile Imagery in Literature
The tactile imagery appeals to our sense of touch by describing something the protagonist feels on their body. It may include the feel of different physical sensations, temperatures, and textures.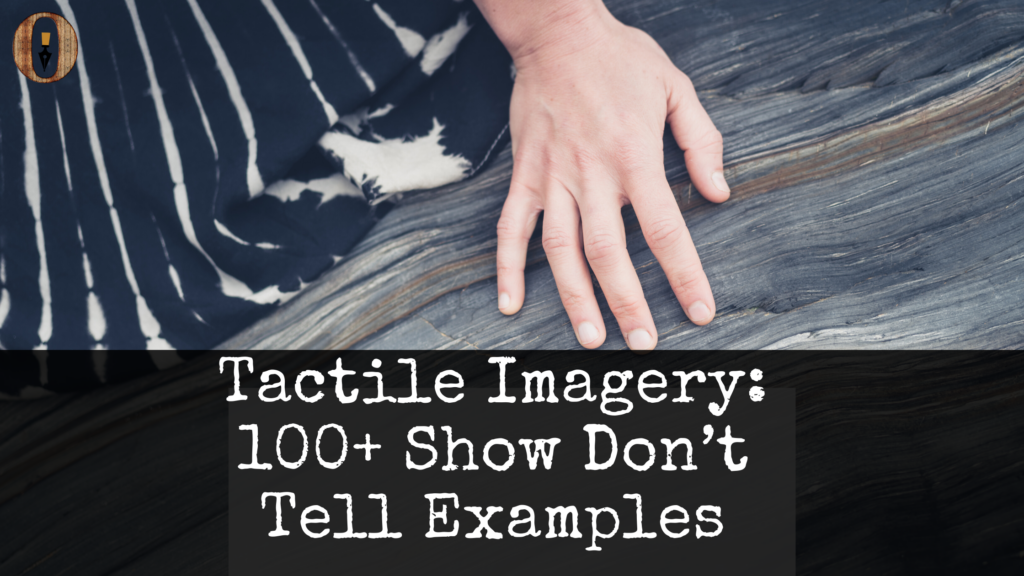 What your characters feel, how they touch, how something touches them, a reader feels these things via your writing. When you put in the imagery for touch and tangibility, you use Tactile Imagery. Essentially, the reader ought to feel those things that your character feels. This is where tactile imagery comes handy. I am providing you with a few example Adjectives describe touch, skin, pattern and texture:
Tactile Imagery Examples in Literature
Abrasive
Corrosive
Coarse
Sharp
Pointed
Edged
Curved
Barbed
Bald
Hairy
Sticky
Silky
Smooth
Cold
Hot
Lukewarm
Chunky
Patchy
Rough
Damp/ Wet
Dry
Chapped
Slippery
Damaged
Blistered
Crocheted
Cushioned
Clammy
Dented
Plastic
Rubbery
Doughy
Blunt
Bulging
Engraved
Embossed
Even
Watery
Gooey
Mushy
Slushy
Sloppy
Spongey
Pulpy
Greasy
Glossy
Grainy
Gravelly
Grimy
Hollow
Frozen
Rocky
Stony
Inflated
Deflated
Itchy
Cottony
Woolly
Metallic
Papery
Crispy
Crunchy
Brittle
Crumbly
Firm
Jagged
Spiked
Serrated
Toothed
Oily
Pleated
Padded
Patterned
Polished
Holey
Moist
Sandy
Flimsy
Chiffony
Gossamery
Gauzy
Delicate
Thin
Thick
Light
Transparent
Opaque
Translucent
Buttery
Meaty
Fleshy
Burly
Muscular
Sturdy
Rigid
Frigid
Friable
Soapy
Sodden
Velvety
Wrinkled
Wavy
Marshy
Miry
Swampy
Hard
Weedy
Soggy
Withered
Feathery
Thorny
Spinous
Steely
Dense
For nouns, you can use any object that goes best with any of the adjectives provided earlier.
Tactile Imagery Sentence Examples:
As I tumbled down the hill, the loose rocks raced alongside me, pricking my hands and face like a hundred tiny knives.
She started to sweat so feverishly that, when she rose from the leather couch, her slippery skin stuck to it like a Command Strip
---
Now that you have a thorough understanding of literary elements to use in your own writing, it's time to put your skills to use! The only way to do this is to practice and actually sit down to write.
Before you leave, check out these 100+ examples on Organic imagery to empower your 'Show don't tell game.'