Our team reviewed top-selling copywriting courses and compared their course content and pricing. If you are looking for best copywriting courses, this list is the perfect place to get started.
We covered how to become a copywriter in the previous post. For beginners, however, here's a simple copywriting definition:
Copywriting is a way of delivering words that sell. It is an art of arranging words to persuade the user to make a purchase.
Copywriting has emerged as the most lucrative career option for aspiring writers. This article gives a detailed description of the most coveted copywriting courses.
Although, formal education is optional to mastering copywriting skills. Yet, reinforcing your skills with the following handpicked certificate courses is enough to connect you with high-paying clients and job offers in this field.
Who can Enrol in Copywriting Courses?
Literally, ANYONE!
There are no eligibility criteria to take online copywriting courses (or offline).
Anyone who wishes to improve their writing skills and build a full-blown copywriting career can join the course. Even the newbie writer can invest in a beginner copywriting course.
Why are Copywriting Courses required?
Copywriters are in charge of influencing and persuading the users or readers to take a certain action.
Therefore, they must be equipped with certain skills besides language proficiency. For copywriters, words are the main weapons in their arsenal.
However, copywriting courses polish their skills in writing for a wide spectrum of copywriting industry. Therefore, to be a top-notch copywriter, constant skill upgradation must be supplemented by copywriting courses.
Given the right copywriting course, one is bound to earn at least $250 per hour.
Now that we know why people quit their nine-to-five jobs and switch to copywriting, let us check out the top high-paying copywriting courses!
Online Copywriting Courses (Paid):
Let's begin with paid copywriting courses available online:
Henry Harvin's copywriting course is extensive, covering all the components of copywriting. The American Association of EFL and the Content Writing Association of India recognise it.
This course is inclusive of the following:
Live projects
Case studies
Bootcamps for monthly polish sessions
One-year gold membership with access to every copywriting material
This 16-hour course entails the following:
100% placement support
In-depth understanding of using social media platforms to your advantage
A clear understanding of market trends and consumer psychology.
It is a live virtual classroom course, offering learners the option of self-paced and trainer-led learning.
Cost: 9500 INR
IIDE's copywriting course is a certificate course that offers an introductory understanding of copywriting.
Cost: 3813/- plus taxes
Its curriculum includes
Process of digital marketing
Social media content creation
Emotionally impactful writing
Understanding of catchy slogans, taglines and headlines.
It is a power-packed course of 3 hours with five-minute-long comprehensive lectures. The only drawback is that these short lectures are accessible for only 30 days.
Managed by the pioneer of SEO copywriting, heather Lloyd martin, the Success Works copywriting course specialises in b2b and SEO writing skills.
It is a 100% online copywriting certificate course that can be renewed annually. This course guarantees their learner will produce SEO-friendly copies with high conversion rates by the end.
Cost: $995
What you'll learn in this course?
How to uncover hidden strengths that can help you make more money
Copywriting techniques to increase sales.
Discover the most effective keyphrases that will boost your site's traffic
How to rank for hundreds of keyphrases using a simple strategy
The most effective ways to optimize your existing content for better search rankings and social shares.
Getting prospects to choose your search listing over your competitors'
Discover new content opportunities and drive more traffic.
Using Google's free tools to measure success.
This is a fairly cheap but promising course, The Copywriting Kickstarter, offered by TCC., from copywriting fundamentals to advanced techniques. It saves our wordsmiths from hopelessly browsing countless how-to guides.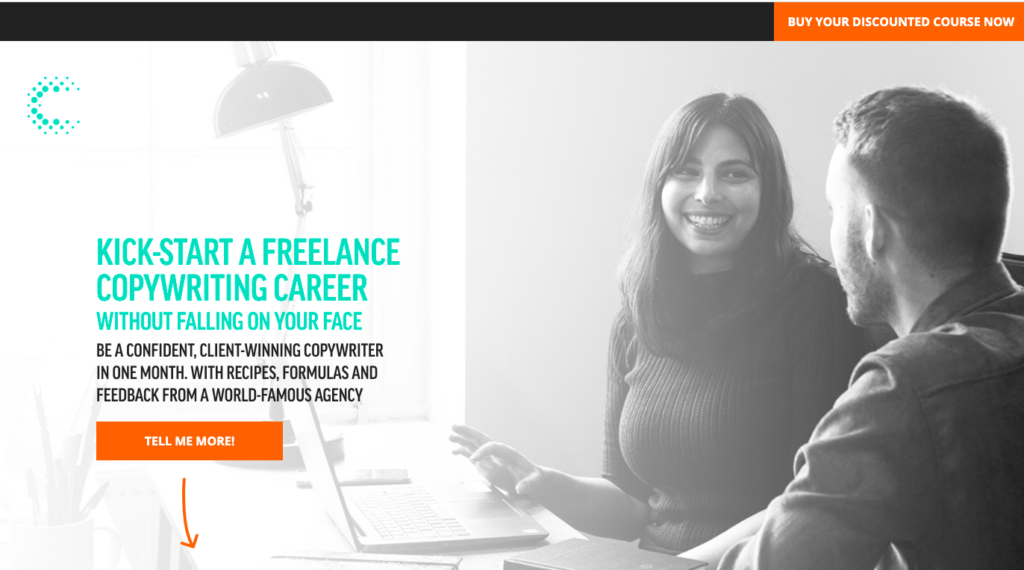 Cost: $290
Learning Outcomes:
Develop creative and technical copywriting skills.
Become confident in winning clients, building relationships, and securing ongoing income.
Join online community to get feedback and tips from agency pros. Plus moral support from your peers.
Learn how to manage legal, financials, and business operations issues that you'll face in copywriting career
Achieved a top-notch portfolio after completing this online copywriting course. You will be added to network of trusted freelancers.
IDM offers a copywriting course for teaching persuasive writing. It is a short two-day face-to-face course.
This course includes
Access to top business instructors,
IDM stamp of approval
7 hours of CPD points (Continual Professional Development).
Despite being a good course, it's expensive for merely a two-day session.
Cost: $1200
Learning Outcomes:
Analyze how your audience reads and interacts with digital content
Develop social media copy that fits your company's digital marketing plan
Learn how to create effective SEO copy for the web and email
B2C and B2B social media content creation
Communicate cleverly across digital channels
Measure the success of your digital content effectively
A trusted marketing institute established in the UK, this industry provides two-day master classes in copywriting.
It includes:
An insight into marketing dynamics
Small class sizes
CIM certificate for copywriting.
A word of caution, only those willing to spend one grand can enrol.
Cost:
In-person: € 1249
Virtual: € 999
Learning Outcomes:
Determine your strengths and weaknesses and where you need to improve
Find a distinctive voice
Analyze, critique, and develop copy in a productive manner
Creating and responding to copywriting briefs
Develop copy for a variety of channels
Make your copywriting decisions clear to colleagues and justify them
Copy-improvement tips for quick wins
If you want to set your foot in the digital universe, then emarketeers.com Writing For Web copywriting course is for you!
It is a one-day certificate course. The session is enriched with research and statistics. Therefore, the information is guaranteed to be the latest.
Cost: $500
Learning Outcomes:
Creating digital content that communicates, persuades, and sells
Understand how the web and email impact on writing
Be sure your audience(s) understands your key messages immediately
Implement policies and processes to guarantee consistently excellent digital writing (including tone of voice).
Promote the value of high quality digital copywriting within your organization
American writers and artists inc's (AWAI) "Accelerated programme for six-figure" online copywriting course is one to die for!
Prepared by the most successful copywriter Mark Ford, this course promises to make writers experts in direct-response copywriting.
The course includes
a Comprehensive Course handbook
and Two assignments with critical evaluation from the top tutors
Cost: $495
Sell-like-hell copywriting is planned by one of the most seasoned writers Carmine Masterpierro. This online course covers the techniques of sales conversion copies to push sales.
Cost: $197 USD
Learning Outcomes:
Copywriting Process
High-Converting Copywriting Strategies
Headline Writing
Copywriting Layout and Structuring
Copywriting Psychology
Copywriting Tutorials
Copyediting and Proofreading
With 11 interactive assignments and expert assistance through email, this copywriting course is value for money. It is self-paced. All the assignments take the learner through every aspect of copywriting.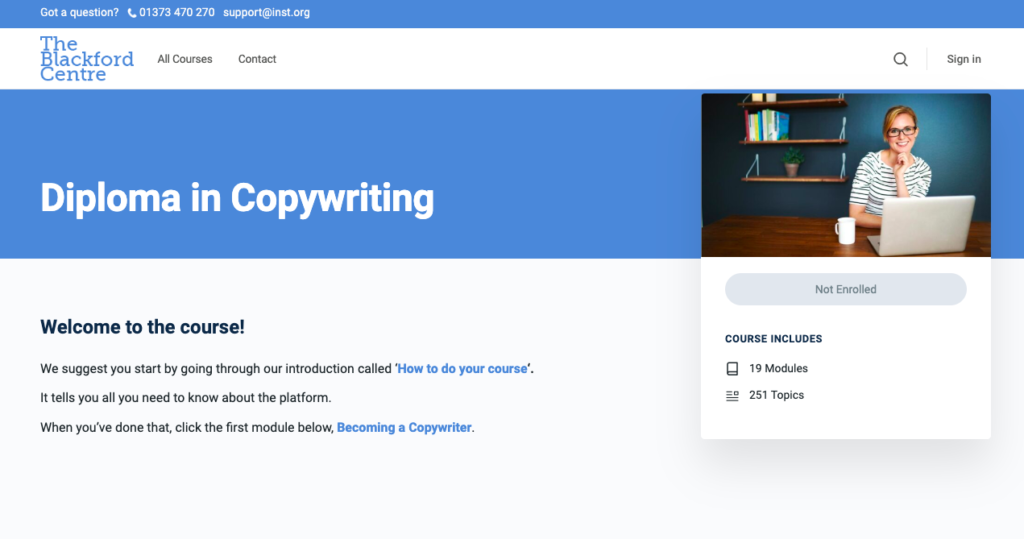 This course also guarantees actual paid jobs. So, one can start a freelancing career as well. Another major pro is that you will have a National Diploma in Copywriting by the end of this course.
Udemy is another online learning platform that offers beginner to advanced courses at economical rates.
On Udemy, you can choose among hundreds of copywriting courses.
For example, The Complete Copywriting Course : Write to Sell Like a Pro, is one of the best selling copywriting courses. Furthermore, all courses on Udemy have a 30-day money-back guarantee, and lifetime access to the study material!
Learning Outcomes:
How to sell more products and services
How to gently + ethically persuade people to act NOW
How to compel your readers using timeless sales psychology
Hacks from successful copywriters
The sales psychology to grow a profitable business
Made by one of the prolific ad writers, Laura Belgray, has tailored this copywriting course into short consumable sections and modules. In addition, it focuses on improving copywriting skills.
However, this course opens once a year, and there is a huge waiting list for registration.
Cost: $1499 USD
Free Copywriting Courses:
The Internet is flooded with free copywriting courses, and below are a few you can take advantage of:
This is a basic course on copywriting with tailored templates and real-life examples of how every copy works.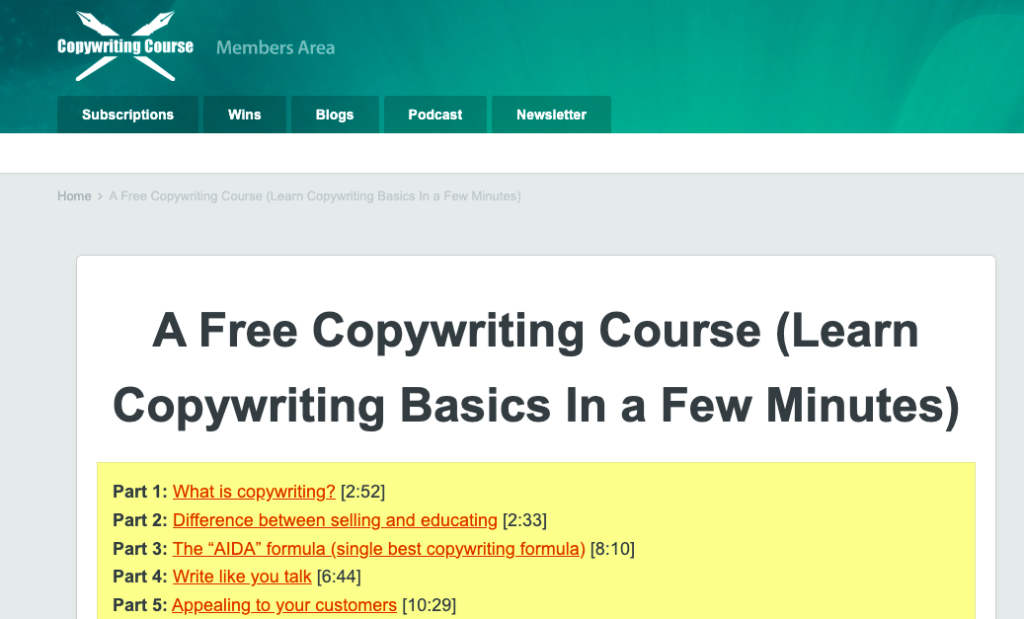 This free copywriting course is an easy-to-understand overview of the copywriting process. This course has a mix of video sections and written summaries described in 8 lessons. If you're looking for copywriting free courses, you must take a look at Neville's course on copywriting.
155 Years of Copywriting Insights Taught In 1.5 Hour Course! is a course available on Coursesity. It is the most refreshing, clear, straightforward, and useful copywriting course that is available for free.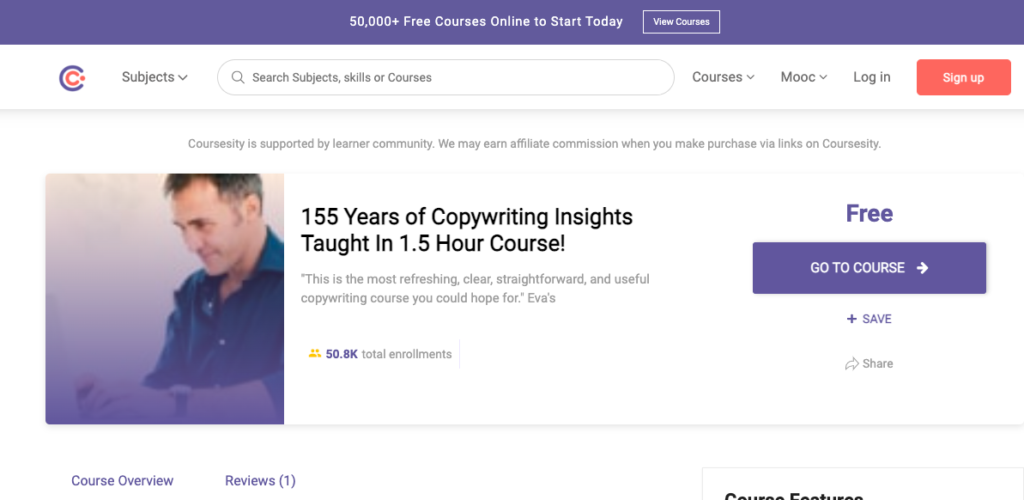 What you will learn:
Effective sales letter format
Tricks and techniques to write hard-hitting sales letters
Way to write sales letters
Copywriting principles to significantly increase your sales.
C

reate a compelling headline that entices readers

Write body copy that persuades people to purchase your product or service.
Learn the philosophy of effective copywriting.
It will just take 90 minutes to finish this course!
Coursera is Massive Open Online Courses (MOOC) platform providing free courses working in tandem with top educational institutes. For example, the Strategy for Content Marketing course is affiliated with the University Of California.
In 4 weeks, this course will enable the learners to
Work on the 7A framework to create engaging content
Incorporation of empathy and emotion in your content
Learn how to manage content
Last, skillshare is another online platform like Upgrad and Coursera.
Copywriting For Beginners: How to Write Web Copy That Sells Without Being Cheesy is a copywriting course prepared by Jesse Forrest.
This course includes
Fundamental copywriting techniques
An insight into the reader's mind
Three proven templates to create striking headlines
Ways to combat writer's block.
The course is covered in 60 minutes, in 16 short videos. It also gives access to a worksheet to get you started with your copy. With 100% ratings from over a thousand learners, this copywriting course comes with a certificate.
Copywriting Certificate Courses:
Copywriting certification courses can add value to resumes. So, listed below are the best copywriting certificate courses available online:
Udemy offers this course. Although it is outdated, this copywriting course offers deep insight into the psychology of marketing and landing page optimisation for conversions.
It uses Tool Unbounce, a landing page software that needs to be purchased or downloaded by the learners.
This Copywriting Certificate Course includes:
Detailed and thorough understanding of landing page concepts
A/B test runs of landing page designs
Professional logo and headline creation
Understanding website traffic using Fogg Behavioral Model
On-demand lectures for nine hours
Certificate on completion
This course is available on Tutorials Point. And it is suitable for companies of all sizes. This eight-hour course offers
B2B Copywriting,
B2B Content Strategy,
B2B Content Marketing,
SPF framework for high-level copywriting,
How to apply persuasive marketing psychological principles
Domestika delivers this high-quality copywriting course. It offers the most relevant and updated content on copywriting for beginners or small business owners.
It covers various topics as follows:
Understanding the Brief
Looking at Research
Developing the Idea,
Fundamentals of Copywriting,
Understanding Social Media Copywriting,
Let's write some Lines,
Use a Formula.
Now that we are clear on the best copywriting courses, it's time to enrol yourself in one of them!
Conclusion:
Although it requires no formal coaching, copywriting is a continuing learning career. With competition getting tougher, mastering a few copywriting skills will help you survive and thrive in copywriting business. You can try copywriting certification or best copywriting courses to further strengthen your skills.
FAQs on Copywriting Courses
What is copywriting?
Copywriting is the art of delivering saleable copies of the products or services offered. It is the ability to organise words that engages and sells. 
What is the difference between copywriting and content writing?
Copywriting is purely promotional writing which is crisp, edgy, informative, and engaging. It includes promotional emails, ads, sales letters and so on.
While content writing is information based, with the sole aim to aware people of the market trends or a particular service or product. They can drive sales, but they emphasise audience engagement.
How can one learn copywriting?
You can take copywriting course to learn copywriting. The online copywriting courses available can have difficulty levels from beginner to advanced.
Can copywriters make 10k a month?
For a copywriter to command $10,000 per month, they must be able to generate much more value for their clients. It isn't easy, but it is definitely possible. Practice and patience are the only requirements
Are copywriting courses worth the investment?
Copywriting does not require a degree or certification. However, if you take a good copywriting course, it will accelerate your path and give you a massive leg up that you otherwise wouldn't have. So, yes, I would say that. Copywriting courses are worth the investment.
Is a Career in Copywriting Difficult?
A career in copywriting is no more difficult than any other. In the real world, very few people can build a successful career without actually knowing how to write copy that sells.
.