In the previous article, we discussed what is copywriting and who is a copywriter. Today we'll learn how to become a copywriter. We'll also discuss key skills for copywriting, career in copywriting, and copywriter job profiles.
Becoming a copywriter is more challenging than it sounds. It requires practice, hard work and an eye for detail. However, additional skills and experience can make a copywriter stand out in the industry.
How to Become a Copywriter?
People often ask if formal education or a degree is required to become a good copywriter. Surprisingly, the answer is no! If there was a one-word answer to 'how to learn copywriting,' I'd say 'practice.'
However, having at least a bachelor's degree can always be good, preferably with English as the core subject. The most common majors of copywriters are English, journalism and communication. These usually represent the proper command over the medium in which the copy is delivered.
Besides having a good command of the language, our aspiring wordsmiths require the following skills:
Learn the art of persuasive writing
Practice 6 fundamental copywriting skills
Find your copywriting niche
Find prospective clients
Build a network for freelancing
Keep the readers on top
Analyse, learn and improve
Tweak your writing with specifics
Learn SEO
Let's dip our feet into these skills further and learn how to become a copywriter:
David Ogilvy once said – "you can't bore people into buying your product. You can only interest them in buying it."
This statement holds strong in the business of copywriting. The essence of copywriting is persuading the reader to buy the product.
Rather than being a prerequisite, persuasive writing is a skill learned through persistence and practice. Regardless of field or career, this universal skill has limitless applications.
How to persuade?
Resonate with the audience emotionally.
Strengthen the writing with data and facts
Tailor the tone according to the topic
Make use of hyperboles to tell unique selling points
Open the first paragraph with a hook
Incorporate the main benefit in the headline
Learn the art of telling stories
Persuasive writing is one of the most important copywriting skills. But there's more you can learn if you want to know how to become a copywriter.
II. Master Six cores of Copywriting:
A seasoned writer with experience in specific types of copies is always in demand. Although you can build your entire career by specialising in two or three copywriting cores, the most common are:
Perfecting the art of writing headlines is necessary. Every copy will include a headline, which must instantly grab attention. Better the headline, the more clients.
Want to how to become a copywriter and write compelling headlines? Try these tips: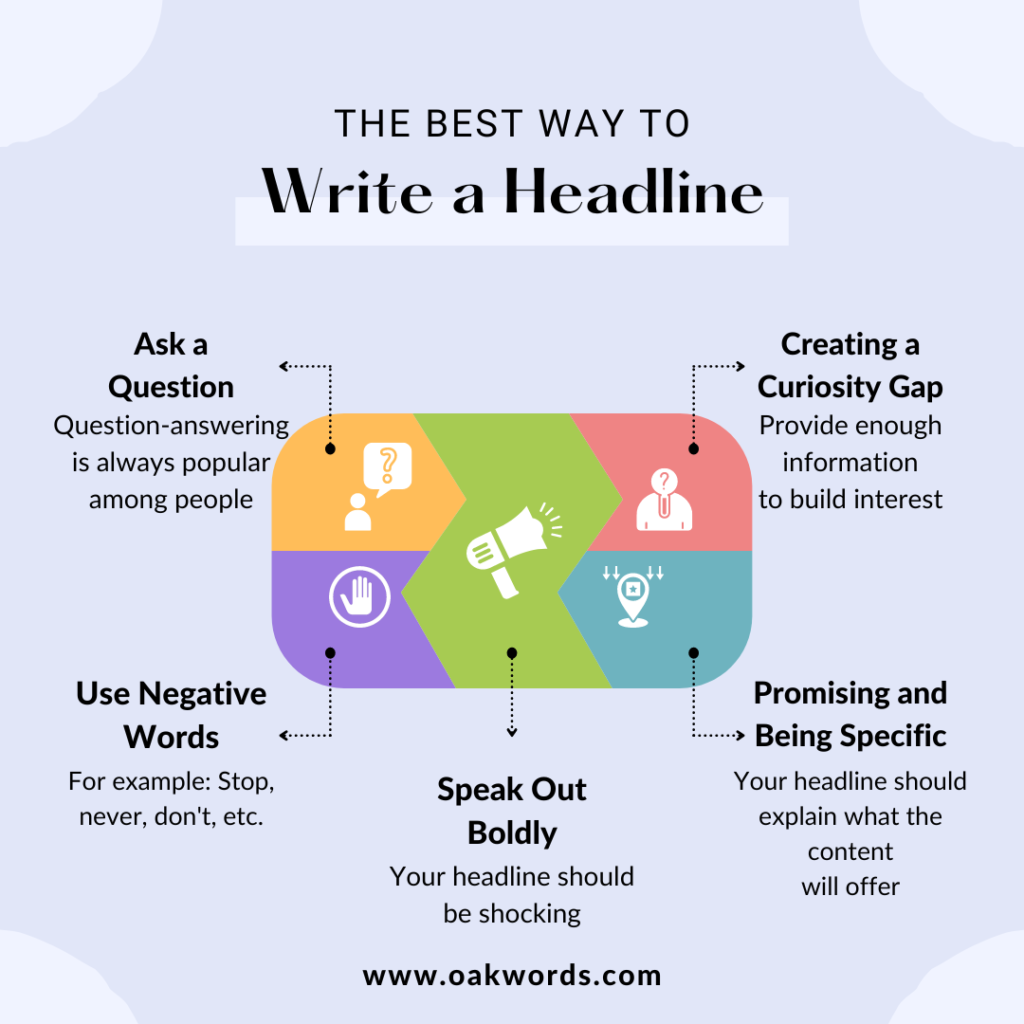 2. Learning to write an impactful sales email:
The most common method of generating leads and keeping existing customers engaged is email. Besides, tracking emails is a breeze. Therefore, performance can be measured and improved.
3. Learning to write a value proposition:
A value proposition is a statement that describes what your business is offering. It is the most important core. And copywriters need to articulate the value your business or brand offers in brief and with wit.
4. Writing a compelling advertisement:
The staple of the market is ad copywriting. Writing convincing ads coupled with PPC (pay-per-click) service providers is the driving force of many small businesses.
5. Video script writing:
Video scripting has been gaining popularity recently. Writing video scripts helps brands pinpoint the important content to be articulated.
6. Landing page writing:
Every landing page has a homepage, main service, and secondary service page. These pages need to perform well. Therefore, writing a well-crafted landing page copy keeps the writer in demand.
III. Find your copywriting niche:
As mentioned earlier, specialising in at least two types of copywriting areas is necessary for writers to gain credibility. In addition, it boosts the chances of better-paying clients.
You can decide niche as per your interest.
IV. Find your first clients:
Finding the potential first client can be challenging if you are a beginner. However, it's easier than it seems.
Exploring writing job boards is the first step to landing your first prospective clients. Once you connect with them, building a network becomes simpler.
V. Make readers your priority:
As writers, we often go with the flow of emotions while readers take the backseat. We dive into the self-plug-ins. However, what's written is less important than for whom it's written. After all, it's the readers who we are persuading to purchase the product. So keeping them out of focus while writing copy is pointless.
A better copywriter must keep the writers as his centrepiece. Empathesising with readers through words and resonating with their problems is the ladder to success in copywriting.
VI. Keep learning and improving:
If you are keen to know how to start as a copywriter, understand that copywriting is a skill acquired through experience. However, failures are inevitable. Therefore, learning and improving are keys to being the best copywriter.
Ways to improve:
Research the market trends thoroughly
Take additional courses
Enhance writing skills by writing guest posts
Reach out to the customers for feedback
VII. Master SEO:
Search engine optimisation has changed the game for digital content creators and copywriters. Optimising the websites with keywords to generate leads and traffic is the end goal of every copywriter. Mastering this skill gives copywriters an edge over everyone in this field.
VIII. Tweak your writing by writing specifics:
If your headline doesn't excite the reader, then your writing is as plain as jane!
Copywriting requires the writer to catch the bull by its horn. Therefore, the art of storytelling coupled with persuasive writing will spice up the reading for your readers.
Bonus Tips on How to be a Copywriter:
The above-mentioned tips are great for writers who want to make a career in copywriting. However, if you are beginner and want to know how to be a copywriter, make sure to keep these tips in mind: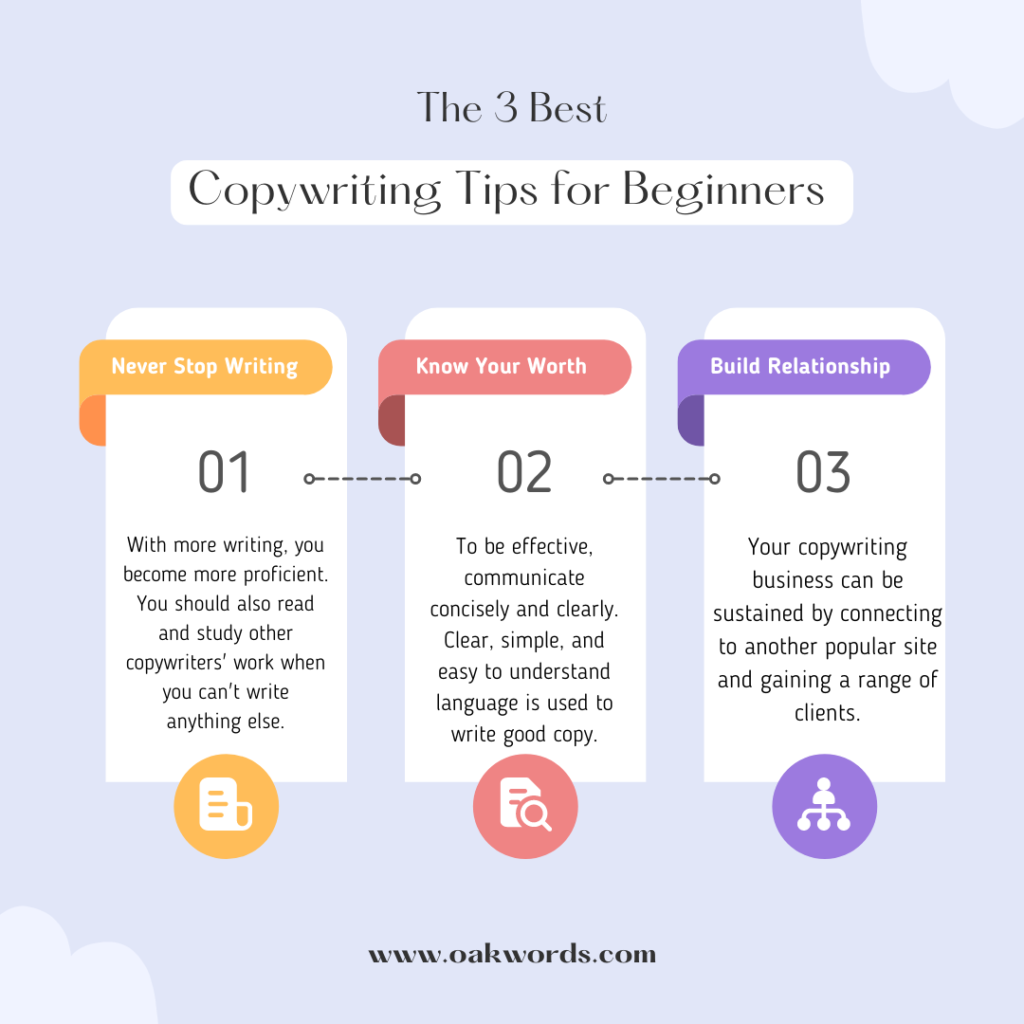 In Closing:
Copywriting is indeed a lucrative full-time job or side hustle. However, someone without experience and certifications can easily dabble in this field. It is one of the most dynamic and creative filed for people who love to give their brains a creative workout.
This article gives you an insight into how to start as a copywriter in a few simple steps!
Key Takeaways:
Copywriting is a skill learned through persistence and experience.
Copywriting is writing delivered for promotional purposes.
Command over language, aptitude for research and an eye for detail are prerequisites to becoming a copywriter.
Copywriters can earn more than two lakhs per annum based on their experience and creativity.
Catchy stories and compelling writing are the secret ingredients of copywriting.
FAQs:
How to get into copywriting?
As mentioned earlier, formal education is not required to make copywriting as a career. However, one must search writing job boards such as Upwork, Freelancer, and iWriter to find work as a freelance beginner. This will also help in building referrals.
What are the responsibilities of a copywriter?
A copywriter is responsible for producing promotional copy for various industries. Copywriters are also in charge of researching keywords and market trends. 
What are examples of Copywriting?
These examples of copywriting will help you learn how to become a copywriter:
1. A digital ad promoting a brand-new sneaker collection
2. An audio script about the effectiveness of a weight loss program
3. The jingle in a TV commercial that makes you want to buy that cereal next time
4. A leaflet handed out by State University representatives at an educational fair for high school seniors
5. An email sent directly to executives promoting the latest software or product
6. Advertisement in a magazine promoting a concealer for under-eye circles
7. Home page content of a website that convinces visitors to read more about product or service