In this post, I've shared 30+ ways to help aspiring writers land a high (even for beginners). My 7 years of content writer jobs experience go into this blog.
When I started content writing in 2015, my employer paid me peanuts ($1 for one article of 500 words, literally!) Everyone who learned of my 'monthly income' asked me to stop writing and find a real job.
I was also planning to quit until realized how vast the content industry is and how many opportunities there are to make a living with writing!
In my upcoming articles, I'll share everything that helped me get into writing and earn a living. In today's article, I'll discuss how to land high-paying content writing jobs.
Before we go through the best content writing jobs, it's important to understand that 'money comes with skills.' So the first step to an upgrade in your pay check is to updating your skill sets.

Take advanced courses, read more, practice writing, and learn additional skills to stay at the top of the game.

I prepared this detailed guide on 'content writing tips for beginners.' It covers latest tips and techniques to make a prolific career in writing.
Is Content Writing a Good Career in 2023?
Content writing is a dynamic industry always looking for seasoned writers. However, channelizing your passion for writing into a money-making skill can more often than not be a daunting task for a beginner.
A strong research game, the ability to meet deadlines, SEO know-how, and interest can go a long way in landing a high-paying content writing job.
Depending on how well a person understands the opportunities and responsibilities, a career in this field can be very stable or unstable.
Basically, it is like any other profession with the same risks of failing, dedication, and hard work required, and the hustle is as much as any other job.
To build a stable content writing career, one should have the capacity to learn from failures, as this industry could be very uncertain. Once you've developed your basic writing skills, you can specialise into the following:
Social Media Writing
SEO writing
Blogging
Copywriting
Freelance Writing
Editing
Script Writing
8 Tips to Start a Freelance Writer Career
Here a few practical tips on building a successful content writing career:
1. Build a Strong Portfolio:
It is no surprise for a beginner without experience to have no portfolio. But, lack of portfolio thereof can create a bottleneck in the way of content writing job applications. 
Fortunately, creating a portfolio is no sweat. Creating exceptional work samples in a particular area and registering with sites like WordPress can help build a strong portfolio.
2. Update Skill Set:
The market has a sufficient amount of content-writing jobs and writers. What gives you an edge, even as a newcomer, is what you bring to the table.
In other words, offering quality, basic content writing know-how, SEO friendliness and so on will put you on the radar of content writing agencies.
3. Pick a Niche:
Recognizing the areas of interest and deciding the niche helps budding content writers to approach relevant content writing agencies and build an expertise in a specific niche.
4. Learn Time Management:
Meeting content writing demands can be a race against time for beginner content writers.
To be skilled in time management, one needs to analyze how many hours one can devote. It requires discipline, tenacity and patience. A set schedule can help in managing the workload.
5. Improve Communication Skills :
Aside from obvious writing skills, one must have excellent communication skills. Finding a job depends on how effectively you communicate your potential as a content writer to the recruiter or the content writing agency. 
6. Ask for Referrals to Get Content Writing Job:
It is an added pressure when you don't have anyone to vouch for your writing. In addition, having no referrals can make finding remote content writing jobs tough.
Connecting with other content writers on job search sites such as LinkedIn can help you build referrals. 
7. Learn Negotiation Skills
Negotiating the rates can be tricky as a new face in the content writing arena. On top of it, no client testimonials render the one in no position to negotiate.
It is easy to decide what to charge once you have done enough market research. Then, one can choose based on experience and skill by understanding the standard pay rates.
8. Don't Fall for Imposter Syndrome:
Imposter syndrome is one of the apparent challenges that a content writer has to overcome. So often, beginner content writers feel incompetent and unworthy. And the application process for the job becomes difficult.
The full-proof solution to avoid imposter syndrome is to be consistent. To keep learning and not giving in to your insecurities is the way to grab a content writing job.
13 Places To Find Content Writer Jobs That Pays
Praise be to the internet. Content writers can write from anywhere and get paid. Here are all the sites, groups, and strategies that helped me get content writer jobs since 2014:
1. Use LinkedIn Effectively:
LinkedIn is the first step to starting your career as a content writer. It also provides additional courses to boost your profile to land better writing gigs.
LinkedIn's job board is huge. On linkedIn, you can organize your job search by location, date, industry, job type (full-time jobs, part-time writing jobs, etc. ), experience level, and more.
Step 1: Sign up for LinkedIn and complete your profile.
Step 2: Fill out your profile and add keywords related to your work (Example: Freelance Content Writer, Result-Driven Copywriter, Ghostwriter)
Step 3: Request recommendations from past clients
Step 4: Browse available job postings on LinkedIn's job board. Currently, there are over 16,000+ job postings for "copywriters" in the US alone:
Step 5: Use LinkedIn's "Featured" section. With it, you can showcase three pieces of your work in large, beautiful display boxes. It's a great opportunity to show potential clients what you're all about.
Step 6: Use InMail for prospecting. Personalize your message and research your clients well. Don't send generic, irrelevant inmails.
2. Network on Quora
Quora is an online platform for asking and answering questions. Quora is incredibly useful for writers. Here's how:
You can demonstrate your expertise and connect with people in your niche
Present your writing skills to potential clients
Publish high-quality answers to Quora questions and get Google ranking for them
Build an audience and establish yourself as an authority to attract potential clients.
Make your Quora profile as professional as your freelance website. Your profile should include the following:
Your freelance writing position
A high-quality picture
A description of your services
You're available for hire
Links to your writing sample
You can use Twitter to find many interesting content writer jobs. Several twitter accounts advertise content writing jobs specifically.
For example, I once found a gig through Best Writing Jobs' Twitter Handle. Find and follow these accounts, and you'll be ready when a new job that fits your skillset pops up.
Here's one more twitter account that you can follow to find remote content writer jobs: @FreelanceWJ
4. Join Facebook Groups
Facebook is a great place to find writing gigs and online jobs. You can find consistent content writer jobs if you know the right groups to join.
However, it takes some time to build relationships with potential leads. As a member of Facebook writing groups, I do my best to participate in the conversations.
I. Serious Content Writers Needed: During the pandemic, this group helped me find content-writing remote jobs:
II. Remote Jobs, Work Anywhere: It's a great place to look for remote writing jobs. Make sure you are not an inactive member. Take part in discussions, ask questions, resolve people's answers. The connections you make will eventually lead to job opportunities.
5. Guest Posts to Build Portfolio
When you're in the portfolio-building stage, writing for free can help. Besides building your credibility as a writer, guest posting will also strengthen your online portfolio and give your writing more exposure.
Here are few websites I strongly recommend for Guest Posting:
Pepper Content has a monthly organic traffic of 122K. Besides finding a writing job on this portal, you can also contribute as a guest writer and build your online portfolio.
We are now accepting pitches for high-quality guest posts at OakWords. You can send us your pitches on content writing, book publishing, advertising, content marketing, inbound marketing, social media marketing, graphic design, and SEO.
Send us an email via the contact form and tell us what you'd like to write about. Some days we have a lot on our plates and can't respond to emails as quickly as we would like. But we'll revert for sure.
Copyblogger publishes content on digital copywriting and marketing. They accept useful, relevant, and well-written articles. Each article on their website is appears uniques and highly informative. To post on their site, you must demonstrate exceptional writing skills.
6. Pitch to Sites That Pay Writers
There are hundreds of blogs that pay for articles. Wait…Why did I tell you earlier to guest post for free when you can get paid to write?
Because free guest posting is easier to land than paid ones.
I suggest building your portfolio with free guest posts and then pitching to sites that pay for articles. In this way, you can demonstrate that your work has been published before.
Here's the list of websites that pay writers for articles and guest posts:
7. Include "Available for Hire" in the bio
As a freelancer, you should have an email signature that indicates you are available for hire. In addition, when interacting online, make sure it's clear you are looking for content writing jobs.
For example, you can include words such as "for hire" in the bio of your guest post to indicate your availability.
You can also use social media sites such as LinkedIn, Twitter, and Facebook to advertise your work availability. You will be able to find greater opportunities if you let people know you are looking for work.
8. Contact Web Designing Companies:
For freelance writers, web design companies are a great place to find work. Visit local web design and development companies and network with them. Whenever they land a new client with a massive amount of content, you will be the first name they think of.
Don't know any developer around you? Use Google. Just search for 'Web Design and Development Company around me' and you'll come across a lot of relevant results: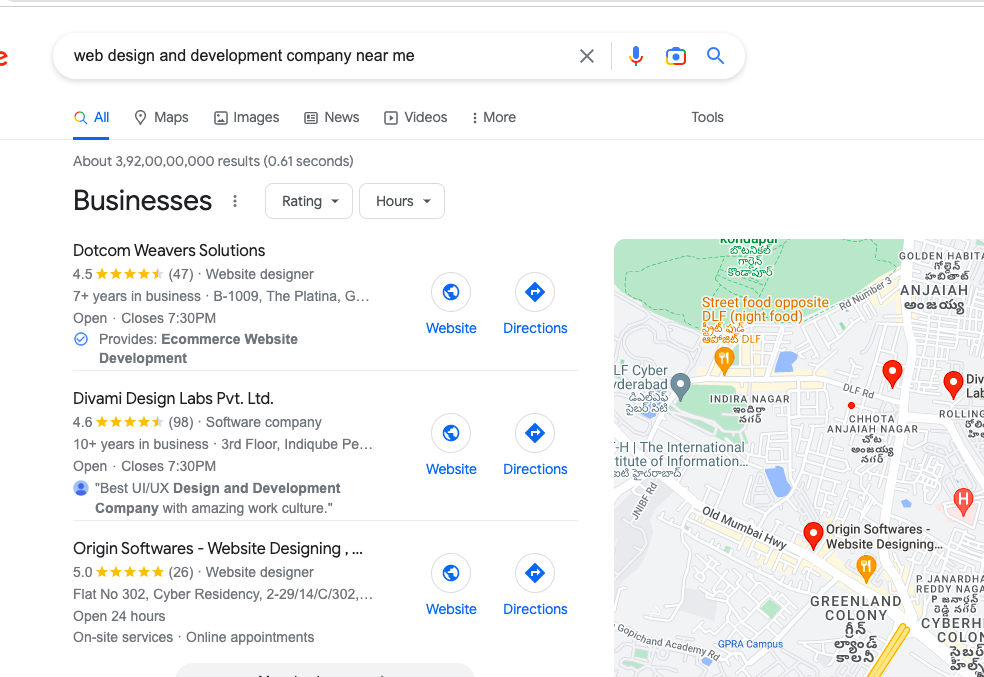 9. Use Your Website
A professional-looking site attracts high-paying clients.
If you are just starting out, this may not be the best option. But, for your business to take off, you'll eventually need a professional-looking website.
For instance, the hire-me page on my website helps me attract high-paying clients. I have included my writing samples, testimonials, and services on this page.
10. Learn How to Cold Pitch
Cold pitching is a fantastic way to get content writer jobs. When you contact clients directly, there's much less competition, and your chances of landing a high-paying gig are higher.
When you cold pitch, you tell bloggers, entrepreneurs, companies or startups how your content writing services can help them grow their businesses. Sure, it sounds hard, but it's not a rocket-science. I am sharing the exact steps I used to find high paying content writer jobs:
The first step is to find businesses to cold pitch to. It involves some research. For example, if you're interested in writing for tech companies, search for 'best tech startups in 2023'
Now, research all the websites or companies that appear on google search results.
Create an excel sheet, mark some companies, then short-list small companies or blogs that could use your help.
Identify the right person to talk to (Editor, Content Manager, owner)
Look these people on linkedIn, learn about them, and draft a cold pitch! Personalisation is the key here. Make an effort to understand what the company does, and learn more about the person you're sending an email to, and personalise the emails accordingly.
Finally, send those emails.
Your pitch should include the following:
How did you hear about them?
A brief description of yourself
Describe how you can help them
Writing samples to demonstrate your skills
Send a follow-up email if you do not hear back within two days. Just keep at it. If you don't try it, you'll never know what works!
11. Pitch to Products/Brands You Use
One of the best places for freelance writers to find writing gigs is with the companies/products they already use. They make excellent potential clients because:
The product/service is already familiar to you;
The audience you write for is easy since you're in it;
You already have relationships with these businesses.
You should include all these points in your pitch.
Start by listing every product/service you've used in the last year. This can include:
Writing, editing, and designing apps you use
Skincare or body care products
Electronic gadgets
Home and Kitchen Appliances
Time management software
…. and many more. Just look around at the product and services you've used. Look up the brand on the Google and analyse the content on their websites:
Could improve their web copy.
Are they regularly updating their blog?
Could you make a significant contribution to it?
How might you help them target specific keywords in their content?
It's all about matching what you offer with what your client needs.
Once you've identified your target customers and how to help them, contact someone on their marketing team. Tell them you have used and loved their product and that you are a part of their target market in your pitch.
Based on your research, offer a price they can afford. The goal is not to get rich immediately but to establish a working relationship, obtain steady work, and build your portfolio.
12. Pitch to Software Company Blogs
You should work with companies that have money to spend on content marketing (such as HubSpot, Sumo, PayPal, Ahrefs, etc.)
These e-commerce and software spend a great deal on content marketing and publish a lot of content. Every article they publish pays for itself because it brings traffic to their website, which often converts to sales.
Who better to write for?
As with agencies, you can send cold pitches to software companies, or you can look for open freelance positions.
13. Network with Other Freelancers
The best way to grow your freelance writing business is to network with other freelancers like other writers.
As a newbie, I contacted freelance writers and asked what their starting rates should be.
Connecting with other writers and bloggers and landed blog writing jobs from that!
11 Must-Try Content Writer Job Boards:
Content writing is a rewarding career in the long run. But, a rookie writer must patiently work to reach the level where content writing becomes a business. To set your foot in the door, plenty of websites offer freelance, remote and on-site content writing opportunities.
Upwork is one of the largest freelancing marketplaces. On Upwork, freelancers can find jobs tailored to their specific skillset. It's a win situation for employers also because they find talent outside their local area in any niche they desire.
I used Upwork in 2020 and worked on few interesting projects. Within three weeks, I earned over $1000. Here's a detailed guide on How I made my first : $1,183 in 3 Weeks on Upwork.
From what I have seen, Writers on Upwork should have a way with words, the ability to convey information effectively, and be able to communicate effectively with potential clients.
Flexjobs is a flexible writers' job board dealing with all online writing jobs, including remote work. It is a legal, scam-free website that customizes the job search as per your working availability, interests, and experiences.
Although it requires subscription of $9.95/week,$24.95/month, and $60 per year, this site provides the best job search experience. It also comes with additional access to webinars and other resources on writing.
It offers blogging jobs posted by quality employers, and ProBlogger is a renowned job board featuring freelance, part-time, remote working positions. The price of posting a job starts at $70, but writers can join for free.
A great feature of ProBlogger is its Candidate Database, which employers can use to search for writers. Writers can join it for free and use it as an online resume and sales page.
Through Pepper Content, writers can build an excellent career in content writing. You can earn money from anywhere in the world while working on projects at your own pace. This platform also offers tools to help writers enhance their content and get direct feedback on their work.
If you want to connect to a wide range of writer's communities, then Freelance Writers Den is for you. The membership fee starts from $40 per month, which gives you boot camps, webinars, writing resources and tools, and direct referrals to land content writing gigs.
Adobe's Behance is a job board that specializes in creating appealing portfolios. Writers and creative professionals can easily upload their previous projects. Then, it can connect you to companies looking to hire.
An abundant source of publications, this site offers to pay freelance writers. This site is anonymously managed. Publications listed also tell pay per word.
If you are looking for content writing jobs, iWriter is a great place to start. Writers can build their clientele with iWriter and work at their own pace. Writers can receive weekly payments on this platform.
With Contently, freelance content writers can work on high-quality projects for top brands. You can apply for work by creating a free portfolio showing your experience and projects you've done.
Truelancer is a freelance marketplace that has thousands of top Content Writing and Freelance jobs. With Truelancer, you can find remote content writer jobs according to your skills, niche, and expertise.
Freelance writers can connect with clients of any size on Writer's Access. The Writer's Access network connects freelancers with over 40,000 brands using AI-powered Writer advanced search, casting calls, and quote requests.
On Writer's Access, only the best freelancers are invited to move forward. So make sure you put your best foot forward. The payment per article is aligned with the writer's online portfolio and experience.
In Closing:
Content writing is flourishing. It is not just a wordplay but an informative mine. Finding a content writing job can be hard initially, but it is promising as a career. However, it requires one to keep at it religiously.
FAQs on Content Writer Jobs:
Content Writing is the art of creating, designing and organizing content for general internet users. The aim is to inform the audience.
How do you Become a Content Writer?
The basic requirements to become a content writer are an aptitude for writing, command over the language and following current trends. Content writing does not require a specific degree. Anyone from any background can become a professional content writer.
What are the Types of Content Writing?
Content writing can be:
Technical writing
Blogging
Social media posts
Copywriting
Academic writing
Guest posts
Ghostwriting
How to Learn Content Writing?
How to Start Content Writing from home?
Investigate the online writer job boards. Register yourself on the sites such as Upwork, OakWords, Freelancer.com and start applying for the jobs. It's that simple!
How Much Does Content Writing Pay?
On the bottom end of that spectrum (the bottom 10%), content writers make around $40,000. On the top end, they make around $84,000.
What is the Salary of Content Writers in India?
Content writers in India can earn from Rs. 10,000 to Rs. 50,000 per month, depending on their level of expertise and the complexity of their niche. Salaried content writers can earn anything from 2 lakhs to 10 lakhs annually, with an average salary of 4.0 lakhs.
How Much Should I Charge for a 500-Word Article?
The average blog post is between 1500 and 2,000 words long. For a new writer, I suggest $.10-.12/word. It depends on your skill set and expertise, however.