Our team reviewed the top 16 freelance copywriting jobs board, so you don't have to. Scroll through to find an unbiased review of each platform.
So, you are a freelance copy writer.
And you want to monetise that skill?
Well, look no further. In this article, I will guide you on how to become a copywriter and get high-paying gigs.
But before that, let me briefly tell you what is copywriting.
Copywriting is "salesmanship in print". It is the art of organising and designing words to convince users to take a certain action. This action can be to subscribe or purchase the product or service.
But let us stay on the topic and learn how to get freelance copywriter jobs:
How to Get High-Paying Copywriter Jobs:
I prepared this detailed guide on how to be a copywriter. It has all steps and hacks to help you launch a career in copywriting. But if are in hurry and want quick tips, keep reading:
1. Skill Check: A Crucial Step
Before you take up any copywriting job, critical and honest evaluation of skills can do wonders.
A self-aware copywriter will always know the following:
Their limitation – whether it is writing skills or inability to meet deadlines
And on which areas they need to work actively upon.
Skill assessment is deciding factor for beginners to understand what to pitch to employers.
They can be ready for what is to come.
To get started as a copywriter, ask yourself the following questions:
Do you understand the difference between a good copy and a bad copy?
Do you know consumer psychology?
Are you aware of the latest market trends?
Do you know the types of copies?
Are you a good writer?
Do you know the art of persuasive writing?
Do you have any writing samples?
Answer to these questions is the first step in copywriting business!
2. Learn Copywriting Fundamentals:
More than understanding the definition of copywriting is required to get started as a copywriter.
Since freelance copywriters frequently pitch to their clients, writing and sales skills are must-haves.
To get high-paying freelance copywriting jobs, you must have a solid understand of copywriting fundamentals. The freelance writer's den is a paid website that can assist beginners in improving their writing skills and finding jobs.
However, a few factors that a beginner needs to be aware of are:
i. Price:
Charging per project is common freelance copywriting pricing strategy.
It is experience and scope based.
The project price can range from a few hundred dollars to more than 10,000$.
Pricing is also hourly based. A beginner can earn up to $25 per hour, while an advanced copywriter earns more than $100 per hour.
ii. Process:
Copywriting is a hot-in-demand skill, and nearly every business aiming to sell wants seasoned copywriters.
But how does it work?
Copywriters are brought on a contract basis.
They write direct response copies such as email writing, product marketing etc.
Copies are usually written on google DOCs, word DOC followed by revisions and refinements.
iii. Expectations:
Copywriting is not the blending of random words. It's the art of selling.
A headline of five impactful words can be worth more than $100 if it sells the service or product or adds a new subscriber.
Clarity of these three basic principles can build a strong foundation copywriting career.
3. Build a Portfolio:
No portfolio + no experience = a recipe to land no writing job!
You can use portfolio websites to exhibit your copywriting skills.
It is challenging when of you are a beginner. But the trick is to use what you have! And never say never to some pro bono work!
I also recommend having your own website to show samples of your published works. Having a professional website might not be possible for everyone, but it helps build credibility.
For example, if you wrote content of a landing page that drives more subscribers, show that! Your persuasion skills with work samples will get you hired in no time.
In your portfolio website, you just need the following:
The main page
Portfolio page
Contact page
A page on the start
And you are good to be hired!
4. Find your Niche:
Copywriting covers a huge spectrum of writing. It includes:
Infographics
Sales letters
Email marketing
Product descriptions
Advertisements
Press releases
Of course, it can never hurt to be the jack of all. But mastering one or two forms of copywriting will be profitable in building a stable copywriting career.
5. Upgrade your Skills:
You can demand as much as $10,000 (or more)
Copywriting is not something that is mastered in a month or two. It is a continuously evolving skill which requires continuous learning.
Therefore, upgrading skills and mastering every form of copywriting will turn the tables in your favour. It will give you an edge over every other writer.
The skills can include:
Art of persuasive writing
Knowledge of SEO
Keeping up with the latest market trends
Incorporation of emotion into your copy
Techniques to write a copy that sells
How to make copy crisp, witty and engaging
Art of writing catchy headlines
Attention to detail
Excellent time management skills
Strong research game
These skills, as mentioned above, require practice and persistence.
After these steps, a few more tips can come in handy once you set out to establish your copywriting career.
Where to Find Freelance Copywriting Jobs?
Beginners have a hard time finding high-paying freelance copywriting jobs. But it isn't a mission impossible.
The first step is to sign up on writing job search boards and take few entry level copywriter jobs. Later, you can use those work samples and client reviews to find more clients.
Our team reviewed top 25 freelance copywriting job boards, so you don't have to. Scroll through to find unbiased review of each platform.
LinkedIn is the first step to starting your career as a content writer. It also provides additional courses to boost your profile to land better writing gigs.
Fees: None
Pros: LinkedIn's job board is huge. On linkedIn, you can organize your job search by location, date, industry, job type (full-time jobs, part-time writing jobs, etc. ), experience level, and more.
Cons: Lack of application feedbacks and scam job profiles
How to Find Freelance Copywriting Jobs on LinkedIn:
Step 1: Sign up complete your profile.
Step 2: Add keywords related to your work (Example: Freelance Copywriter)
Step 3: Request recommendations from past clients
Step 4: Browse available job postings on LinkedIn's job board. Currently, there are over 16,000+ job postings for "copywriters" in the US alone:
Step 5: Use LinkedIn's "Featured" section. With it, you can showcase three pieces of your work in large, beautiful display boxes. It's a great opportunity to show potential clients what you're all about.
Step 6: Use InMail for prospecting. Personalize your message and research your clients well. Don't send generic, irrelevant inmails.
Upwork is one of the leading writing job boards. Updated and regular jobs are posted from all around the globe.
Fees: As a freelancer, you are free to join Upwork to find work, but the platform charges service fees based on the projects you complete.
Upwork will charge a service fee of:
20% service fee on the first $500 you bill to a client
10% of lifetime billings for that client between $500.01 and $10,000
5% of any lifetime billings for that client that exceed $10,000
Pros: Upwork is the largest and most comprehensive website of its kind, so there are plenty of opportunities.
Cons: Upwork has the largest pool of freelancers in the world, so competition for quality work can be fierce. Because most freelancers are from areas where living costs are lower, you can often compete with talent with similar skills, but at a much lower rate.
Fiverr is a freelance marketplace that connects freelancers and businesses. Fiverr offers professional services in more than 250 categories, you can find a lot of freelance copywriting jobs here.
Fees: The platform charges a 20% fee for every transaction, even if you list your services for free.
Pros: Fiverr has an incredibly diverse talent pool (ranging from entry level copywriter jobs to speechwriters and data entry specialists) which is why it attracts clients seeking a variety of services. Fiverr can be a good place to start if you have trouble finding clients for your specialization.
Cons: The name Fiverr comes from the fact that its services begin at $5. Consequently, it has become the go-to resource for employers seeking to hire affordable (some might say cheap) freelancers. As a result, negotiating a higher rate may be difficult.
Freelance Writing Jobs serves both as a job board and as a resource for writers and editors.
Every week, the website posts relevant writing and editing gigs along with articles and tips on how to build a successful career as a writer or editor.
Fees: None! On Freelance Writing Jobs, you can browse all gigs for free.
Pros: The team at Freelance Writing Jobs searches the internet for the best writing jobs, so you don't have to. If you're just starting out as a freelance writer, the extra resources on the site are also very helpful.
Cons: The site gets updated twice a week, so some of the postings are outdated.
As a content marketing platform, Contently connects brands with freelance writers to create blog posts, white papers, and case studies.
You only need to create an online portfolio that displays your best work to get started. Once brands have checked out your samples, they can contact you about any projects they think are suitable.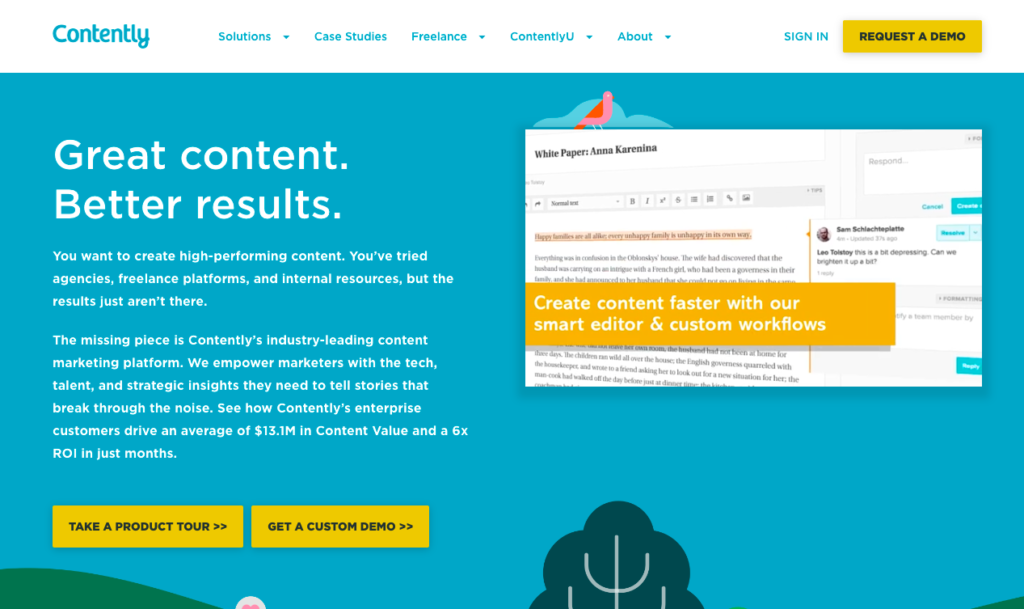 Fees: You can set up your Contently portfolio for free, but once you start getting assignments, you'll need to pay a 15% fee.
Pros: With many clients paying between $1 and $2 per word, Contently has a reputation for hosting some of the highest-paying writing gigs on the web.
Cons: The approval process is slow. New writers can expect to wait weeks before their profile is reviewed and approved.
The Freelancer platform is another well-known freelance marketplace with a long list of impressive clients (on its homepage, Microsoft, Boeing, and Intel list the platform's users).
Fees: Freelancer has a complicated fee structure. Platform fees include:
All projects accepted will be subject to a 10% introduction fee
If you win a contest prize, you will be charged a 10% contest fee
When you are hired for additional work, there will be a 20% fee
Inactive accounts are also subjected to a $10 maintenance fee per month.
Pros: There are many gigs and a variety of opportunities on the site. There are over 1,350 job categories, so you can almost always find something that suits your interests!
Cons: Fees can be confusing and unreasonable for beginners.
The FlexJobs is an online job board that specializes in "flexible" jobs, such as remote and part-time jobs, on-site jobs with flexible schedules, and freelance jobs.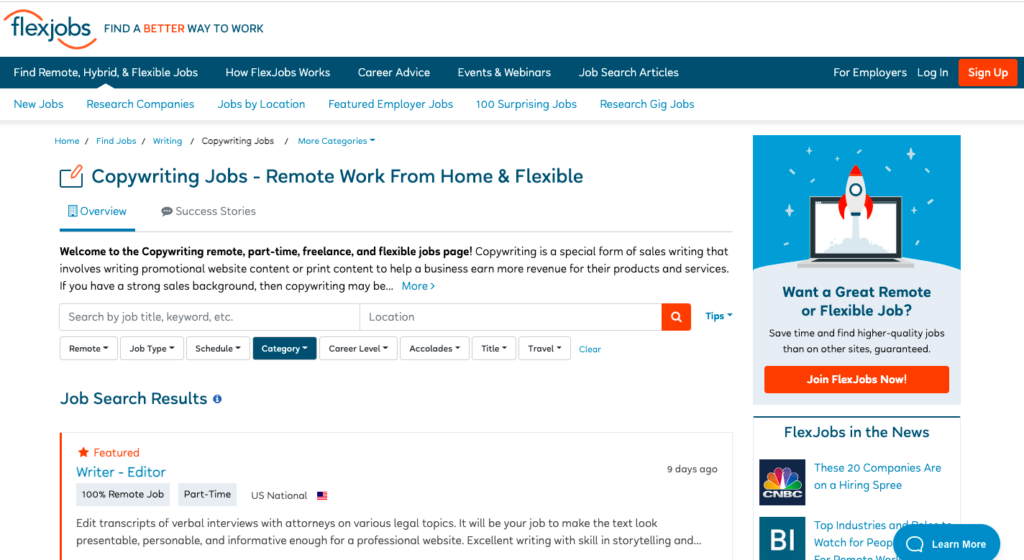 Fees: For access to the jobs posted on FlexJobs, members must pay a membership fee. A typical monthly rate is $24.95; however, you can save by signing up for 3 months ($39.95) or a year ($69.95). You can also try FlexJobs for a week for $9.95 if you want to get a feel for it before committing.
Pros: FlexJobs' job postings are verified, so you can be sure they are legitimate. (No spam or scam jobs here!)
Cons: As with all jobs on FlexJobs, not every opportunity is going to be a good fit if you're looking for freelance work.
Writers Work is the all-in-one platform for launching your freelance copywriting career.
Fees: A website with a one-time membership fee of $47. It is a portfolio platform for your previous works.
Pros: Writers' Work has an excellent text editor. Some writers place a greater emphasis on this. If you want to add a little more structure to your freelance writing, Writers Work has some options for tracking goals and time.
Cons: On the platform, applying for gigs is a hit-or-miss process. Every listing will have its own requirements. In some cases, you can simply send an email to their email address. Some job sites will redirect you to another job posting and take you down a rabbit hole of work.
Problogger offers job listings without paying a fee to join. Although the fee for posting a job is $70, it is free for writers looking for work.
Its Candidate Database makes it easier for employers to search for quality writers.
Contena is a popular writing job board. A membership plan is required for registration. This membership plan comes with its training programme too.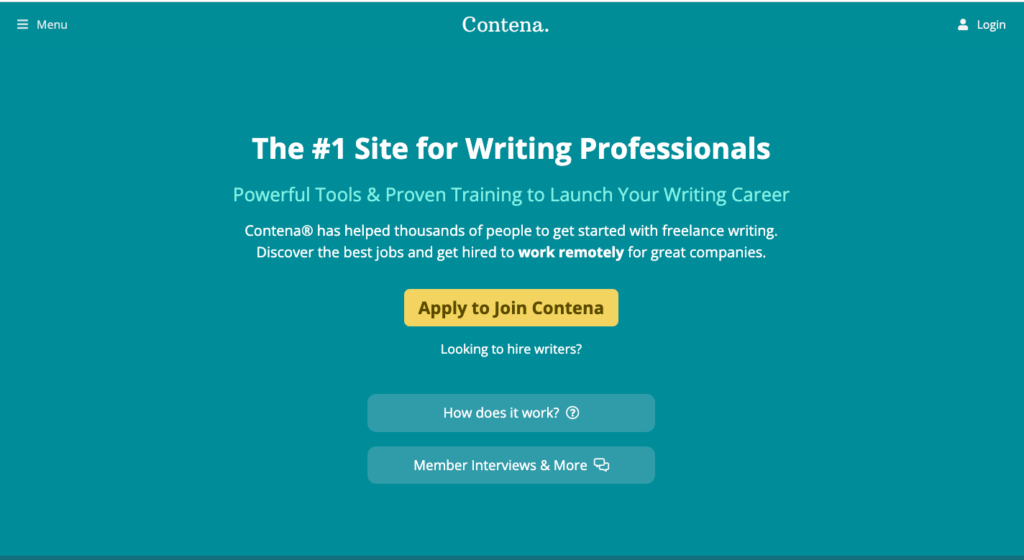 Fees: The membership is yearly for $497 and $997, which can be paid in instalments.
Pros: With Contena, you can start your own freelance writing business with plenty of support and guidance. Contena seems like a reasonable place to start if you're new.
Cons: Due to the upfront costs, the subscription plans seem expensive: Gold membership is $497 for one year and Platinum membership is $997 for two years (or six installments of $199).
11. Local Businesses:
Underrated but assures way to get started with your freelance copywriting career.
Not all businesses, especially small businesses, post online jobs. Researching the local market for freelance copywriting work can be a good start.
12. Networking:
Networking is a new deal sealer nowadays. Freelancers already in the market can give you leads or introduce you to work.
But good communication and networking skills are prerequisites.
13. Cold Pitching:
Cold calls may seem tedious. But you may never know when the luck shines!
This is more like trial and error and demands patience and acceptance from beginners. But again, this works!
With enough said, these starters' tips are surely a gateway to your freelance copywriting career.
In Closing:
It is easy to make money once you start getting the work in copywriting. It is almost easy money, but behind the scenes, efforts to build a successful copywriting career are almost challenging.
What do people see?
High-paying writing gigs, top clientele, top-notch writing skills, high conversion copies, excellent time management and so on.
What do they not see?
Persistence and consistency, tons of unpaid work, countless rejections, pressure to meet deadlines, continuous skill upgradation, learning from failures attitude.
Freelance copywriting is undoubtedly a profitable way of earning a living. But not everyone is cut out for it. So, if you want to be in the game, give it all you got!
FAQs on Copywriting Jobs
How much money can copywriters make?
The amount of money copywriters make is subjective to their experience and skills. However, the average salary is $27 per hour and $57,000 per year. Depending on the expertise, the hourly salary can increase from $100 to $1000.
Can I be paid hourly?
Yes, you can be paid hourly. However, after the negotiations, one can set the no. of hours and pay per hour. One can also be paid on per word basis and project basis.
Which copywriting courses can I join?
The internet is flooded with countless free, online and paid certificate copywriting courses. 
Our team reviewed top-selling copywriting courses and compared their course content and pricing. If you are looking for best copywriting courses, this list is the perfect place to get started.