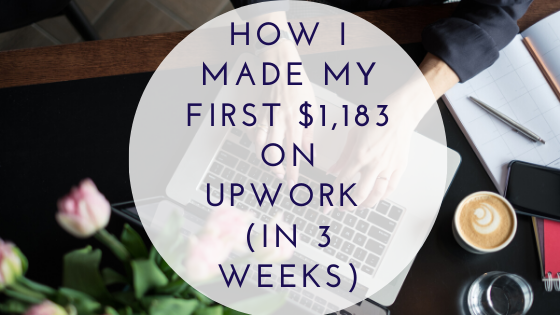 Okay, let's talk about how to make money on UpWork
I've decided to play with open cards.
I've recently started working on Upwork. It's literally the 20th-day today. So you understand, I haven't made it big. I'm not the top-rated UpWorker. I don't even have Upwork's rising talent badge.
And still, I decided to write a post about how I made my first $1183?
Yes. And I've got two good damn reasons to do this:

I am planning to record my Upwork Job Success here (more like an open journal) – this way I'll keep you fellas updated about what worked for me and what didn't.


I am excited to share my Upwork experience – the mistakes I made, how I rectified them, and the results.
Want to get on board with me?

Great. Let's start with an embarrassing screenshot:
This is from Day 1. I sent proposals to 8 different recruiters. And look at what happened. Some jobs were withdrawn, some were closed (after they hired someone else), and few potential clients took time to 'decline' my proposal.
How to Make Money on UpWork: Mistakes to Avoid
So, what did I do wrong? Why did all my proposals get rejected?
I was trying to be cool. I wrote one proposal. Then I copied it and pasted it everywhere. I thought if I send proposals to 10 recruiters, at least two of them will hire me.

I was bidding only on the juicy jobs. I wanted to get that $1000 gig. So I ignored all the small, less-paying projects.

I was bidding on every big project I 'thought' I could do.

Well. My ninja approach didn't work for me. It kind of backfired.

After three days of wait, I decided to read a few tips available on the Upwork community and checked the profiles of other Upworkers.

I made a few changes:
I tweaked my Upwork profile:
I added more details about my work experience, the projects I've worked on, and the links to my published articles. The focus was to display my best work to my prospective clients.
Check out what I added in my portfolio: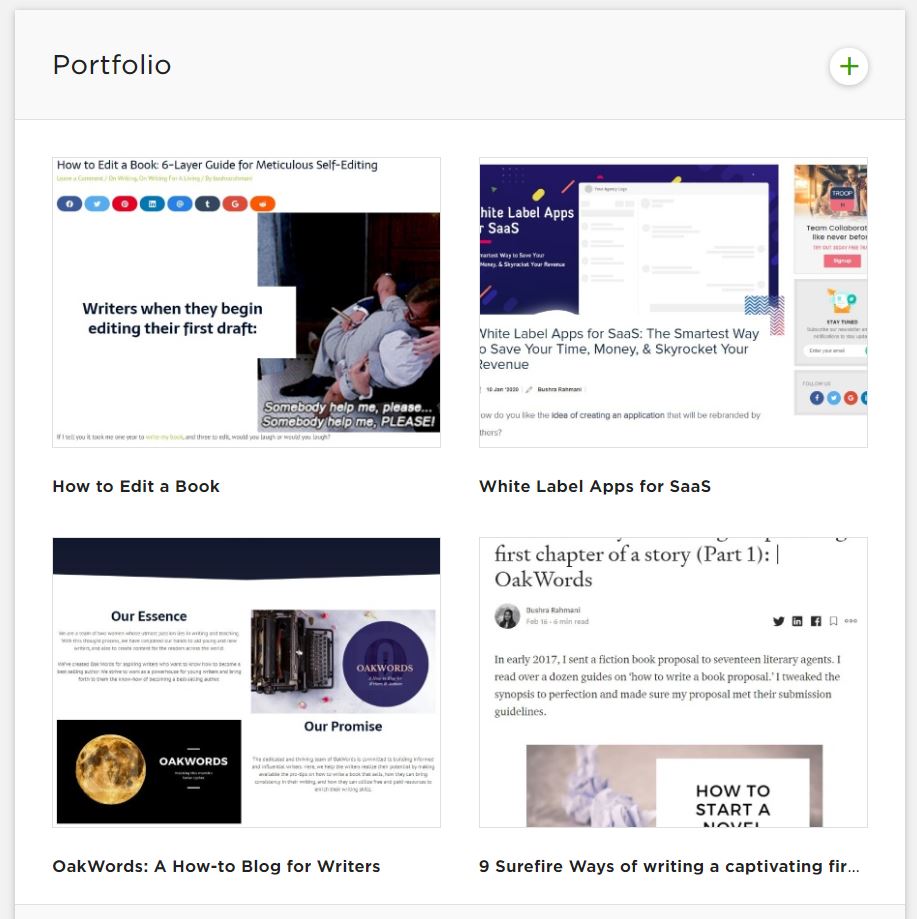 Now, many of you may not have content published under your name. That's just one of the many pains of being a freelance writer since your services are white-labeled by your clients.

Here's what you can do:

Write one or two articles on article submission sites like Medium, HubPages, and Ezine Articles. These are all free sites where you can publish an article on any topic you wish. And they are always open to new entries.
Once you've published the articles, create a portfolio on Upwork with those links. Now you can tell the clients you've got the expertise!
I wrote personalised proposals for each client
Yes, I decided to let go of the skyscraper technique. I reminded myself that the people reading my proposal is human and not a machine.

By personalisation, I don't only mean addressing them by their first name. Personalisation means telling them why you're fit for that particular job, and how you can make their project successful.

I talked about their specific requirement and my specific qualification to take that job.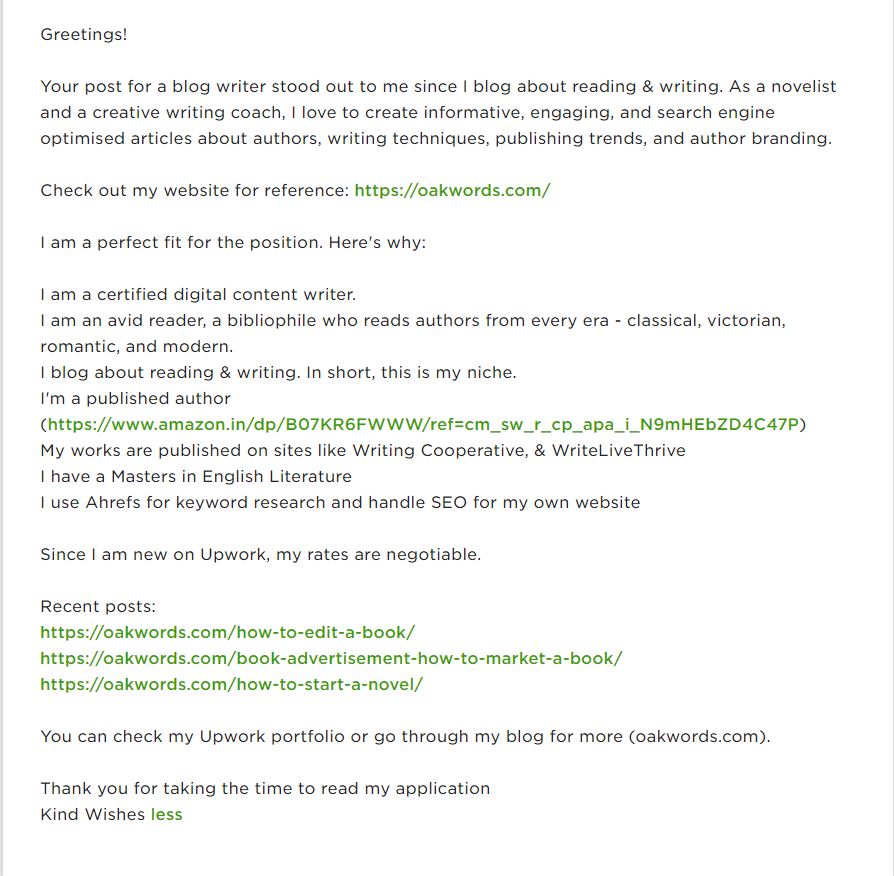 When it comes to the Upwork proposal (or any job proposal in general), generalities never work. It's the specifics that sell. 

Tweet
For example, if a job is about writing a blog post for dogs, tell them how you can write for dog lovers, and what writing experience you've in this niche. Don't tell them you're a good writer and don't send them samples for health articles.
Want to see how sending a personalized proposal worked for me?
I accepted the low-paying Job
If I tell you to accept a job that pays $10 when it's actual worth is $50, you're going to frown at me.

But what if 2-3 low-paying (short-term) projects can help you get the 5-star rating, and then eventually attract those juicy jobs?

This approach worked well for me. I accepted 2-low paying projects, gave me my best shot to impress my clients, and earned the 5-star reviews.

Once I had three 5-star reviews, I started applying for higher-paying gigs.

Want to see how it turned out?
Here's the snapshot of the first Job:
This was the lowest-gig I had ever worked on.
I got $1.5 per 500 words.

I accepted one more small project the same day, completed it, got a 5-star review, and sent a proposal to a better paying gig. Here's what happened:
Even with this job, I was not getting the amount I should ideally get as an experienced writer.
$6.67 per 500 words. But I made some progress, right?

You've to see this one:
This is the gig I should be working on!
$60 per 500 words. Because I work my ass off to exceed my clients' expectations.
So, How to Make Money on Upwork?
Never settle for a long-term less-paying job. If you are one of those people who give it their best shot, you deserve the best. So, I'd definitely ask you to keep an eye on those juicy jobs.

However, accepting 2-3 low-paying, short-term gigs won't hurt you as long as you know how to get those 5-star reviews!

I know you're noticing how I am so repetitive about these reviews. If you've tried Upwork, you probably know how important they are. They are your gateway to lucrative job opportunities.
And this goes without saying – Don't apply for jobs you're not great at. This way you not only kill your chances of getting good feedback and recommendation but also waste your client's time.
With this, I'll take your leave. Like I said before, I'll continue updating my progress here – with more mistakes and lessons!

Till then, continue being awesome!