Learn about Organic SEO strategy – 9 steps you need to take to get your site on the first page of search engines.

Publishers in 2023 will need to create people-first content, optimise their website for Core Web Vitals, build appropriate linking structures, add semantically related keywords, and utilise structured featured snippets to make it to the SERPs.

In this post, we'll discuss all of these and bonus tips to increase organic Seo traffic. Before we begin, let's understand the basics:
What is an Organic Search Result?
In a search engine results page (SERP), organic search results are the unpaid listings. Organic SEO results are based on factors such as relevance to the user's search query, incoming links from relevant sites, domain authority, and valid search engine optimization (SEO) efforts.
Why is Organic SEO Important?
Organic SEO is the most powerful marketing tool available to marketers, enabling them to take advantage of its endless possibilities. Below are a few reasons why organic SEO is essential and indispensable to the growing digital market industry:
Improve brand awareness
Improve the overall quality of the website
Bring in traffic from various search engines like Google and Bing
Enhance users' trust in the website by providing credible and relevant content.
While organic SEO tactics from 2022 are still in play to boost traffic, dynamic shifts in SEO algorithms have made publishers look for foolproof strategies to boost SEO in 2023:
Top Organic SEO tips for 2023:
Here are some SEO tips to boost traffic in 2023:
1. Understand Search Intent:
Search intent is way for content creators to understand the "why" behind any given search query. Before you produce content, make sure understand exactly what you target audience is searching for. What is the intent for their search?

Understanding search intent provides valuable context about the reason someone typed their question into a search engine. A high intent keyword also has a high commercial intent. These keywords reflect the searcher's actual intent to transact with the site, whether it is to buy, inquire about a product, or take any other action that has the potential to lead to sales.

Google takes search intent into consideration while determining SERP rankings. That's why it is important to match your content with search intent.
2. Create Helpful Content:
In August 2022, Google rolled out the helpful content algorithm update, which rewards "people-first" content. The new algorithm update aims to improve search results by bringing more original, useful content written by humans, for humans.

If you want to boost organic seo traffic in 2023 (and in the subsequent years), use Google's helpful content guidelines as a core part of your SEO strategy. Of course, there's a lot more that you need to do to stay ahead of the game.
Helpful content will continue to reign. As we move into 2023, marketers will have to focus on combining highly engaging content with relevant keywords. Since Google has made their intentions clear, it is essential to create content that is original, informative, and aligns with the user's search content. Here's how you boost organic Seo traffic with helpful content:
Ensure that your content is focused on people, not the search engine bots.
Publish content that demonstrates your knowledge and first-hand experience.
Don't enter a niche topic without any expertise (a lot of people do it just to get traffic from search engines).
Don't summarise or paraphrase what others have to say without adding any real value to your content.
Do not use AI writing or paraphrasing tools to generate content.
Deliver value in every paragraph. After reading your content, readers should feel they've learned enough about the topic.
3. Review Core Web Vitals Report:
Similar to 'helpful content,' user experience will also affect the ranking of pages in SERPs (Search Engine Result Pages). With the Core Web Vital update, Google announced 'a site's rankings will suffer if users don't have a positive experience.'

Core Web Vitals are a set of metrics from Google that help website owners understand how users experience a web page. These metrics include:
First Contentful Paint (FCP): FCP measures how quickly content loads on your website.

First Input Delay (FID): FID measures how quickly a webpage processes an interaction after a user interacts with an element on a website.

Largest Contentful Paint (LCP): LCP indicates the time it takes for the largest piece of content to load:

Cumulative Layout Shift (CLS): CLS measures the number of layout shifts that occur on a website without user interaction.

The Core Web Vitals report shows how web pages are performing in terms of user experience. It's basically Google's way of sizing up the overall UX of your site (basically, the factors that make up Google's "page experience" score). Using Google PageSpeed Insights, you can look at how your website performs against the Core Web Vitals and make improvements. This will eventually help boost your organic seo traffic.
4. Utilise Schema Markups
With schema markup, your content is better understood by search engines and more accurately represented in the search results. You've probably seen marked-up content in the form of rich snippets.

Rich snippets do make your webpages appear more prominently in SERPs. As a result of schema markups, rich snippets with helpful information like FAQs, photos, and reviews are displayed on SERPs. These results provide the exact information users need and increase the chance of clicking on the link. Higher visibility results in a higher click-through rate.
For example, the FAQ rich snippet shows a collapsible Q/A list under your typical SERP result. Clicking a question reveals the answer in a dropdown. If your markup contains more than four questions, a "Show more" link will be displayed that reveals all of your FAQs.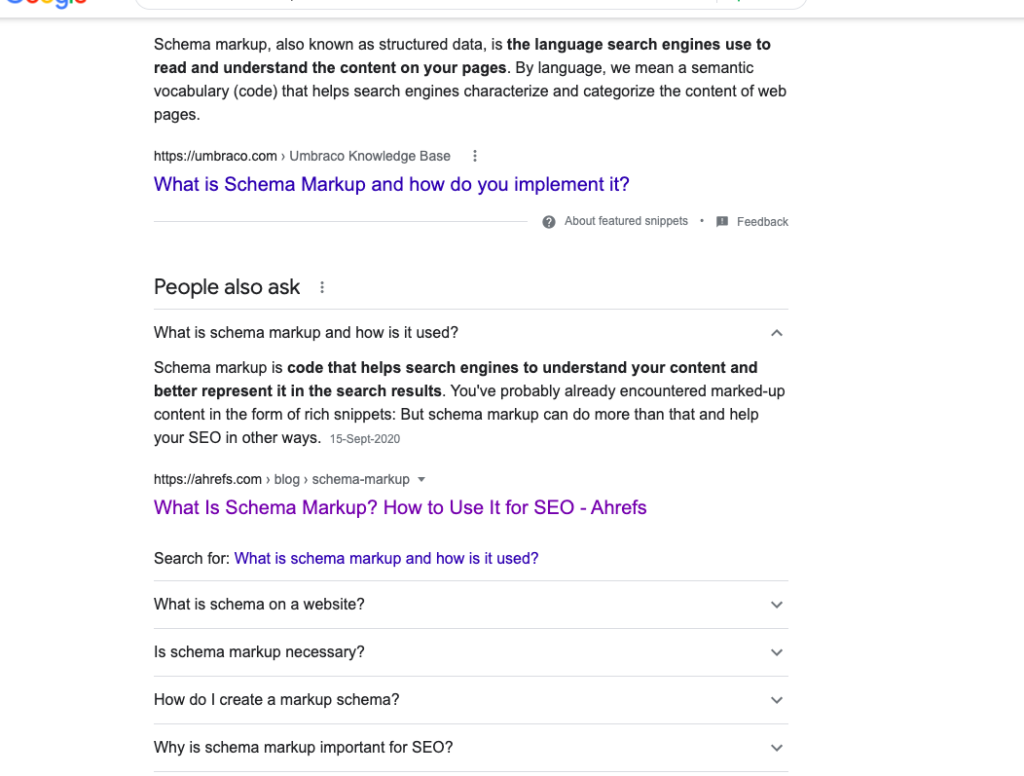 In short, utilising schema markups as an organic seo strategy helps increase visibility in SERP and boost organic traffic as well.
5. Optimise On-page and Off-page SEO:
On-page and off-page search engine optimization is an old but all-encompassing organic SEO strategy. It's a long-practised organic seo practice that helps website gain significant ranking. Off-page SEO and on-page SEO target two different sets of SEO factors:
I. On-page SEO:
On-page SEO is directly in a website owner's control — it refers to all the factors that can be manipulated or optimised on their website to increase page ranking. In addition to publishing relevant, high-quality content, on-page SEO includes:
Optimising product, services, and blog post content
Optimizing your headlines, HTML tags, title, meta, and header
Optimizing images with Alt Tags and Captions
Website responsiveness
Mobile-friendliness
II. Off-page SEO:
Off-page SEO is everything outside a website owner's control — it refers to actions taken outside your website to impact your rankings within (SERPs). These factors, along with on-page SEO, help a site rank. Optimizing for off-site ranking factors involves:
Improving user perception of a site's relevance and trustworthiness through Guest Posting
Building domain authority through backlinks
Promoting your website on social media platforms
Asking reputable sites or people to "vouch" for the quality of your content.
NAP Citations (submit to popular directories in your industry)
Leveraging customer reviews to build trust
5. Create High Quality Backlinks:
I mentioned 'backlinks' earlier. Since backlinks are very crucial for organic seo strategy, I have added a detailed section on how to create high quality backlinks.
According to Backlinko, backlinks, also termed inbound links or incoming links, are the links from one website to a page from another website. As per google, backlinks are the third most crucial search engine ranking factor. Therefore, high-quality backlinks entail a higher rank in SERPs.

Backlinks are a way to tell the users that the contempt is reliable and trustworthy. Authoritative backlinks are even more valuable as they can boost organic search traffic significantly.
White hat SEO techniques are a set of approved organic SEO strategies that will Improve the website's ranking on the search engine result page. However, some marketers buy low-quality links to confuse google algorithms, thereby penalizing their site in the long run. It is also referred to as the black hat SEO strategy, which should be avoided if your want your content to rank in the long term. White hat SEO techniques to create backlinks include:
List your website on relevant local business directories.
Publish expert roundups that mention key industry players – then let them know and ask them to link back to your content.
Do thorough internal linking – search engines evaluate your site not only on the basis of external links, but also on the basis of internal links.
Find out which sites link to top-ranking content in your industry using tools like Ahrefs, and then create better content on the same topic and ask them to link to it instead
Post on social media – if your content is valuable, engaging, and relevant to the businesses that follow you, they'll likely share it or even link to it.
Send out local press releases when you have exciting news about your company or industry – local newspaper websites usually publish such news and include a link to your website.
You can secure credible links on geolocation-based sites such as Yelp, Google Business, and Foursquare, so that when people look for products or services like yours in your area, your business appears.
Disavow links from low-quality sites from time to time.
6. Revive the Old Content:
Stale and old content fails to attract users, making it less reachable. To drive organic seo traffic, publishers must keep up with the changes happening in the industry. Best practices include updating old content with the latest information, adding relevant infographics, and optimising new keywords to drive more organic traffic.
7. Leveraging Content Clusters:
With a vast array of emerging topics, content clusters are one of the best organic SEO practices of 2023. Content clustering is an SEO strategy designed to promote a website's authority on a specific topic and increase organic traffic.
There is more to blogging than simply having a lot of posts. The goal should be to create a complete network of content covering each topic in depth. A good practise is to cluster each topic together by creating an internal link structure between related content. It means all content related to a single topic is organised in a topic-subtopic hierarchy.
The benefits of creating topic cluster content extend beyond marketing and organic SEO. It can:
Establish your site as an authority
Make it easier for your target audience to find what they are looking for
In short, content clusters help create more authority on the webpage, provide users with relevant information, and ultimately enhances click rates and user engagement.
8. Optimise Images and Meta Descriptions:
Image optimisation is a powerful organic seo strategy – especially when it involves topics with diagrams or explanations. Also, for images that are fun and entertaining. It is always beneficial to put in more effort when it comes to images optimisation.
You can increase website traffic by optimising your images correctly. It is important to have quality images with large dimensions, a human-readable filename, and a well-written alt attribute with your keywords. Take these steps to optimize images and you will see the benefits.
Add relevant images or infographics in your post.
Use image XML sitemaps to help search engines find your images.
Ensure your images are crawlable and indexable.
A good image format helps keep load times and quality down.
Make sure image URL path is short and logical.
A alt attribute (alt tag) gives search engines context. So, Both from an SEO and user perspective, it's important to add relevant alt tag to your images
Search engines consider page speed when ranking pages. To make your images load fast consider lazy loading, compressing images, serving images through a CDN, and use browser caching.
9. Promote Your Content:
Promoting your brand/ service/ website/ or content on various social media platforms will help you get noticed by users. Social media platforms are most useful in getting direct backlinks to your website. It also enhances the sites' click-through rates and the overall ROI.
Another useful method to boost organic seo traffic is reaching out to the influencers for a shout-out of your website. It'll also help you increase your:
Followers
User Engagement
Shareability of your content
Leads
Conversions.
Key takeaways for Organic SEO
Search engine optimization is an ever-changing technique that requires publishers and marketers to be consistent and compliant with Google's guidelines.
Great user experience, topical authority, and content excellence are the top SEO techniques to boost organic seo traffic in 2023. However, the techniques mentioned above are not one-time SEO tactics; they need to be improvised constantly as per the trending algorithms to remain at the top of the google rankings.
Incorporating schema markups makes google understand the content and assists in optimizing content and predictive search.
In 2023, helpful content will reign supreme, as google search engine crawlers will continue to favour content that adds value for human readers.
The Core Web Vitals report shows how web pages are performing in terms of user experience.
FAQs on Organic SEO
What is Search Engine Optimization?

The term "SEO" stands for "search engine optimization." Search engine optimisation is the process of improving the amount and quality of the traffic coming to a website from search engines by using a variety of search engines (Google, Bing, Yahoo). Better search engine visibility increases your chances of attracting new and existing customers.

What is Organic Search in Google Analytics?

In Google Analytics, organic search is a source of traffic. These are the unpaid listings on search engine results pages (SERPs). It excludes paid results on SERPs, including text ads and Google Shopping ads.

You can't pay for organic rankings. Google decides these rankings based on content quality, topic relevance, and other factors. A Google SERP example showing organic search results and paid search results can be found below:

How to Increase Organic SEO Traffic?

Want to know how to increase organic traffic? Try these organic seo tips: 
1. Keyword cannibalization should be avoided.
2. Always keep the user's intent in mind.
3. Make sure your website is as fast as possible.
4. Optimize your website for voice search.
5. Keep content up-to-date consistently.
6. Link building should be done cleverly.
7. Make sure your website is mobile-friendly.
8. Be smart about your keyword selection.

How to increase website traffic?

Here are some tips for increasing website traffic:
1. Keyword optimization is crucial for your content
2. Optimize landing pages for targeted traffic
3. Create high-quality content that engages readers
4. Boost your website's visibility by using paid ads
5. Build your reputation in local search

What are best Organic SEO tips for beginners?

These are the best organic seo tips for beginners:
1. Research keywords thoroughly.
2. Produce long-form content.
3. Specify which pages Google should not crawl.
4. Ensure your content is easy to digest.
5. Ensure each page title is distinct.
6. Describe the contents of the page accurately.
7. Format your text using headings and formatting.

Where to find Organic Traffic in Google Analytics?

In Google Analytics, you'll find organic traffic under "Acquisition". Go to "All Traffic", then "Channels". In this section, you'll find different sources of traffic, including organic traffic.

How does Search Engine Work?

Search engines are pretty easy to understand. There are three main steps:

1. Crawling: Crawling is the discovery stage of google, defined as the process of fetching webpages that have been updated or recently published. The crawlers scour the Internet for content, looking over the content for each URL they come across.

2. Indexing: Indexing is the stage where search engines like google store the content later to be retrieved. For Google to add the content to its index, the content needs to be of high quality, with appropriate keywords in the title and other tags.

3. Ranking: After a page has been crawled and indexed, it can appear in a search engine result page. Search engine results pages are what you see after typing a query. In a SERP, the most relevant results are listed at the top. Rankings are determined by many factors. A few considerations are search intent, content quality, domain authority, and mobile-friendliness.