Learn how to use paraphrasing tools for unique content creation.
Paraphrasing tools have become a requirement for bloggers and content creators. These unique tools help writers recreate original content with a single click and ensure their content doesn't have any unwanted plagiarism. These tools are also great when writers wish to overcome writer's block.

In this article, we'll learn how paraphrasing tools can help writers become more productive and overcome writer's block:
Note:
At Oakwords, we do not encourage the use of paraphrasing tools for complete content curation. In fact, According to Google's helpful algorithm update, sites that use too much automation for content creation will be penalised.
Google favours content that goes beyond cookie-cutter templates and has a certain level of human creativity. You can use paraphrasing tools for rewriting few parts of your article, but make sure to add your ideas, experience, and perspectives to add the human touch.
Rewriting vs Paraphrasing:
There is a difference between rewriting and paraphrasing, even though the two words look similar.
| | |
| --- | --- |
| Rewriting | Paraphrasing |
| The process of rewriting involves changing the words or phrases and adding more content to make the content richer. | Paraphrasing, however, means changing the words or phrases without altering their meaning. |
So, how do you go about using paraphrasing tools? Let's keep digging to find the proper way to use these paraphrasers for good content.
What Are The Benefits Of Using Paraphrasing Tools?
The necessity of avoiding plagiarism drives the importance of paraphrasing. For an academic writer, it's an essential tool for better grades. Still, it's an absolute necessity for a blog writer because blogs cannot afford any amount of plagiarism.
Not only that, a blogger's reputation and credibility depend upon the originality of their content. So, wanted or unwanted, any type of plagiarism can ruin that, and that's when rewording tools step in to save a writer's work. That's why they're essential to use.
Moreover, sentence rephrasers or paraphrasers thoroughly scour through content to find any duplicity. Since a lot of content on the internet features duplicity in some capacity, it's essential to steer clear of it to ensure the content's integrity.
That's why many writers use plagiarism checkers and then paraphrase duplicate content to ensure originality—as it helps their content stand out among similar niches and industries.
Paraphrasing Tools For Blog Content
A paraphrasing tool (or sentence rewriter) is essential for any writer in today's world; it helps them stand out with viable content and ensures content originality. But finding a tool that allows you to do all that for free or at minimal costs isn't easy.
The internet is teeming with bogus rewording tool and websites that claim to paraphrase. That's why it's essential to identify a viable means to make the most of it. That's when user-approval ratings and the provider's reputation come into play.
If you come across a paraphrasing tool, find out more about their key features. Most of the rewriting tools also offer a free trial plan, which you can use to check whether it meets your requirement. So, we went ahead and did some research on best paraphrasing tools. Then, we tried several free and paid paraphrasing tools to find the best tool you can use to paraphrase your content.
Top 6 Paraphrasing Tools in 2023
1. QuillBot (Paid: $14.95/month)
Want to improve your writing by using state-of-the-art AI? Try Quillbot!
For students, professionals, writers, and scholars, it is the best online paraphrasing tool. As a result of its versatility, Quillbot has become a useful tool for composing legal emails, preparing doctoral theses, and translating documents.
The interface of Quillbot is super easy, and it uses machine learning to enhance paraphrasing. For basic paraphrasing, it also offers a free plan.
In addition, QuillBot can be integrated with Google Docs and Microsoft Word to make your processes easier.
2. Word Tune (Paid: $9.99/Month)
Wordtune is a paraphrasing tool that understands human language. The Wordtune tool does more than just paraphrase your sentences, it offers you several options. In this way, you're sure to find a writing style that suits you.
The Wordtune extension works hand in hand with Chrome, enabling you to rephrase your sentences while typing.
It offers a free plan with a daily limit of 20 rewrites. The premium plan gives you unlimited rewrites for $9.99 per month. Premium plans offer unique features, such as the ability to choose between casual and formal tones. In addition, you can shorten or expand the length of your text.
3. WordAI (Paid: $49.95/month)
WordAI is another well-known tool among SEO professionals and students for paraphrasing content. Before rephrasing, the WordAI tool uses artificial intelligence to understand the meaning of the content.
It is also integrated with the Perfect Tense tool to make sure that there are no grammatical or spelling errors. This helps it to deliver shining results!
And there's more – it also supports more than four languages including English among others. It has the potential to paraphrase up to 1,000 articles with a single upload.
4. PrePostSEO: Paraphrasing Tool Free
PrePostSeo is an advanced paraphrasing tool that allows freelancers, students, bloggers, and writers to quickly and easily paraphrase multiple articles. 
It's a free online paraphrase tool (also known as sentence changer) that utilizes state-of-the-art techniques to paraphrase content.
During the paraphrasing process, synonyms and sentences are changed to make the paraphrased version of the content unique from the original version.
5. Clever Spinner (Paid: $9.90/month)
Clever Spinner enables content creaters to produce readable and appealing content for your audience. With CleverSpinner, you can paraphrase your content both on a word and sentence level. You can also rewrite paragraphs.
As CleverSpinner uses artificial intelligence, it understands the meaning of words and chooses the appropriate synonyms for them. As a result, you won't have to spend a lot of time correcting your work.
A three-day free trial is available. To gain full access, you can pay $9.90 per month or $85 a year.
6. SpinBot (Paid: $10/month)
The Spinbot tool rewrites content into readable text by using automatic paraphrasing. This tool instantly spins or rewrites textual content of about 1000 words. You can also use Spinbot's text spinning capabilities to come up with new ways of discussing old subjects.
With paid subscription, you can rewrite text without captchas or ads via a web browser. You can choose from one-month, six-month, or one-year plans for $10, $50, and $75, respectively.
Handy Tips on Using Paraphrasing Tools:
Here are six important ways to use a paraphraser tool to eliminate any duplication:
1. Pick A Tool & Go To The Website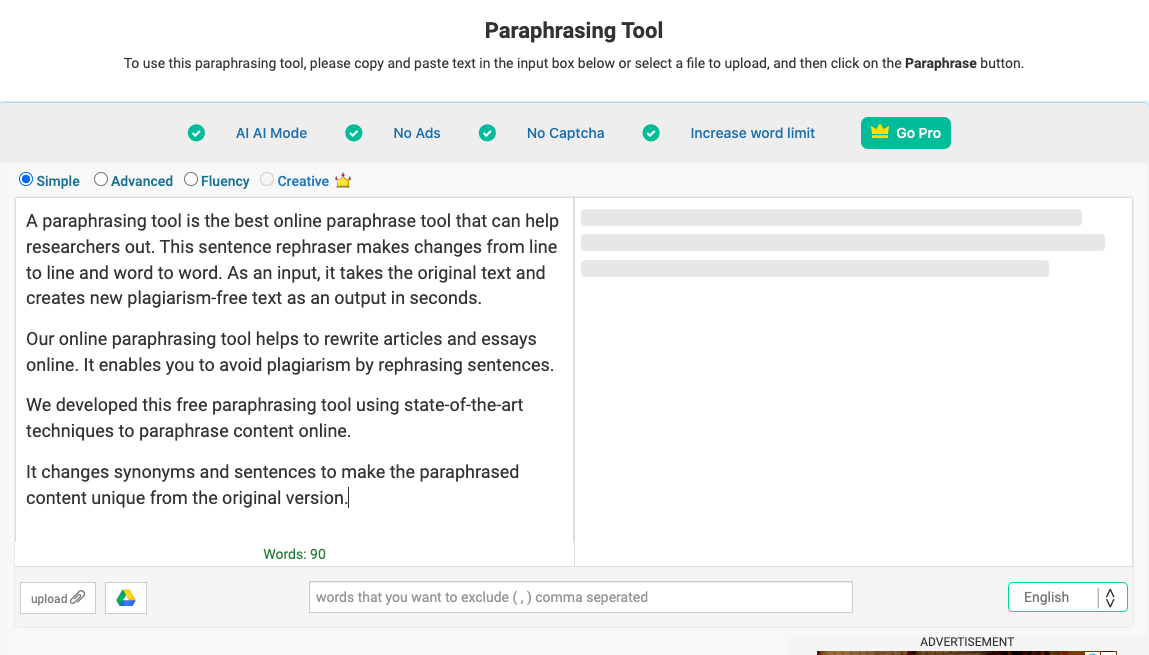 If you wish to paraphrase your content correctly, you must pick a reliable Paraphrasing tool. That's why we tried a few tools that can help you out. Out of them, we have selected the most one. So, once you find the tool that seems the best to you, pick it up and go to their website.
We choose PrepostSeo for this tutorial – an online paraphrasing tool. Since it's a free tool, anyone can access it anytime.
2. Paste or Upload Original Content 
Now comes the part where you use the content you wish to paraphrase. It can be to achieve a better content tone or to avoid plagiarism. So, if you checked your content in a plagiarism checker and it showed some percentage of duplicity, choose that exact content and paste it here.
3. Pick A Content Tone
Once your content is in, make sure you pick the content tone. In this paraphraser, we had the options of simple, advanced, fluency and creative options. Each has its benefit, so you can try them individually. So, it's better to pick fluent or creative, to keep it simple yet attractive. 
4. Paraphrase
When ready, paraphrase your content. Usually, short content types would take around 3-5 seconds, such as 300-500 words. However, more extended content types, i.e., 1000-1500 words, will take more than 5-10 seconds. 
This is still not much, considering how much rewriting it will require. But, then, you will notice that paraphrased content will be presented to you side-by-side with your original content. Once done, move on to the next step.
5. Check Grammar
This is essential because you must ensure your content's integrity before moving forward. For example, even if a content rephrase is reliable, it can still make grammatical mistakes. Not intentionally, of course, but it's better to scour through your content.
Because, sometimes, it would use unnatural phrases or terms, such as "in that case," instead of "then." So, try to scan through your content one last time before you move on, as it will ensure you eliminate any grammatical, spelling, or structural errors. 
6. Download or Copy
Once your content is ready, copy or download it. We had the luxury of downloading or copying the file in this tool. You can pick the one that suits you the best. However, being able to choose a downloadable file makes it easier to share.
Conclusion
Most of the writers dislike using paraphrasing tools. However, content automation tools can save them time and overcome writer's block. Using paraphrasing tools and following the tips in this article, you can avoid plagiarism while producing SEO and human-friendly content.
FAQs on Using Paraphrasing Tools:
How Can I use Paraphrasing Tools to rewrite my sentence?
Here are some tips for rewriting content:
1. Avoid starting the topic from the same place. When rewriting a topic, choose a unique starting point.
2. Divide long sentences into smaller ones.
3. To change the sentence structure of content, writers can use passive voices.
4. Additionally, writers can use relevant synonyms. Writers can use a thesaurus if a word doesn't have an appropriate synonym.
Is it illegal to use Paraphrasing Tools?
It's not illegal to use a paraphrasing tool, because the generated sentence consists of new words and has a completely new structure. As with manual paraphrasing, the paraphrasing tool doesn't involve copying sentences.